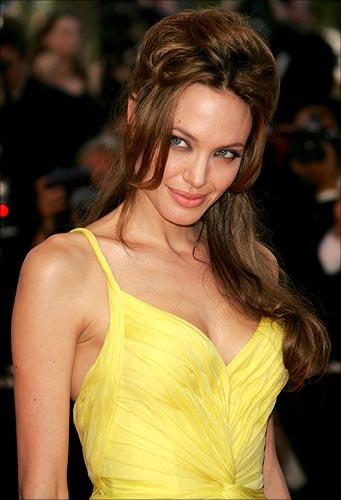 Superstar Angelina Jolie is planning to quit her acting career to focus on her role as mother. The Oscar-winning actress has revealed that she wants to cut down the number of films to spend more time with her six children.
Jolie, who is living with actor Brad Pitt, gave birth to twins Vivienne Marcheline and Knox Leon in July. The couple also have a two-and-a-half-year-old daughter, Shiloh, and adopted children Maddox, Zahara and Pax.
Her latest film Changeling, directed by Clint Eastwood, is releasing in UK at the end of this month but the actress says she is ready to wind down.
"I don't think about it much because I don't plan to keep acting very long. I'm ready to do a few things now and fade away and get ready to be a grandma one day," Jolie told BBC when asked whether she thought that getting old could harm her career.
"So I'm not so worried that I want to keep this pace up and try to be something and be a celebrity and be a successful actress forever.
"I think it's nice, I've had a time to tell stories and be able to be successful enough to tell the ones I want to tell, and to earn some money at the same time is great.
"But everything comes in seasons and, you know, I hopefully won't be needing to do that later in my life in any way," she said. Jolie has worked in more than 30 films and she is the second highest paid actress in the world behind Reese Witherspoon.
The actress, however, has admitted that while she may onsider working on future films, it could only be as few as one every three years. "I don't think I'll ever say I'm never ever going to work because maybe there's that interesting project where I feel creative.
"I'll work for a few months in February. I won't work again probably for another year. I like being home a lot these days," she said.
"First and foremost I have a lot of children and I have a big responsibility to make sure they're growing right and that they've got us there for them," the actress added.
Text: PTI | Photograph: Getty Images