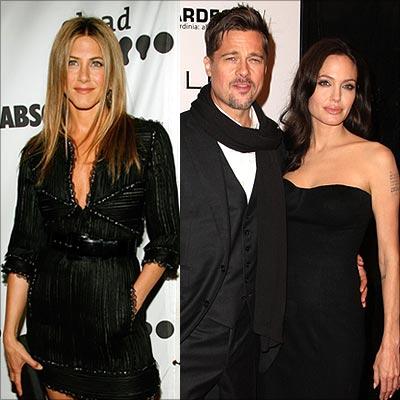 Breaking her silence over the split with ex-husband Brad Pitt for the first time, Jennifer Aniston has blamed Angelina Jolie for being 'uncool' about her affair.
'What Angelina did was very uncool... but I'm still in touch with Brad,' Jennifer Aniston revealed in an interview to celebrity magazine Vogue's December issue.
Aniston said she felt Jolie was not right when she spoke about falling in love with Pitt during the shooting of a film while he was still married to her. The actress says she had no idea that her husband was falling in love with Jolie as they filmed Mr and Mrs Smith in 2005.
For years, Aniston had remained tight-lipped about Angelina's role in their break-up but thirty-nine year old former Friends star has now slammed Jolie in the latest interview.
Aniston said she found the truth only two years ago when Jolie gave an interview to the magazine about how her affair with Pitt began on the sets of the film. Aniston said, 'There was stuff printed there that was definitely from a time when I was unaware that it was happening. I felt those details were a little inappropriate to discuss,' Daily Mail said quoting her.
Jolie and Pitt had earlier said that they fell in love only after Pitt separated from Aniston, his wife for five years. But Aniston's relationship with her former husband has remained cordial even after the break-up. 'I have nothing but absolute admiration for him, and I'm proud of him. We have exchanged a few very kind hellos and wishing you wells and sending you love and congratulations on your babies,' she told Vogue.
Aniston also talked about her current relationship with singer John Mayer, ex-boyfriend Vince Vaughan. Speaking on her divorce with Pitt, Aniston said, 'Well, it never was that bad. I mean, look, it's not like divorce is something that you go, 'Oooh, I can't wait to get divorced!' It doesn't feel like a tickle. '...in the end, we really had an amicable split. It wasn't mean and hateful and all of this stuff that they tried to create about Brad can't talk to Jen and Jen can't talk to Brad because this person won't allow it. 'It just didn't happen. The marriage didn't work out,' she said.
After the separation both stars came to an understanding by discussing things, the actress said. 'And pretty soon after we separated, we got on and we had a long, long conversation with each other and said a lot of things, and ever since we've been unbelievably warm and respectful of each other,' Aniston revealed.
Aniston, who will be seen in the romantic film Marley and Me, also rubbished the idea that she was unlucky in love. 'This whole 'Poor lonely Jen' thing, this idea that I'm so unlucky in love? I actually feel I've been unbelievably lucky in love.'
Talking about her current boyfriend, singer John Mayer she said, 'We care about each other. It's funny when you hit a place in a relationship and you both realize, 'We maybe need to do something else,' but you still really, really love each other. Aniston has also patched-up with her mother. The duo fell out when her mother Nancy talked about her in media.
Text: PTI | Photograph: Getty Images