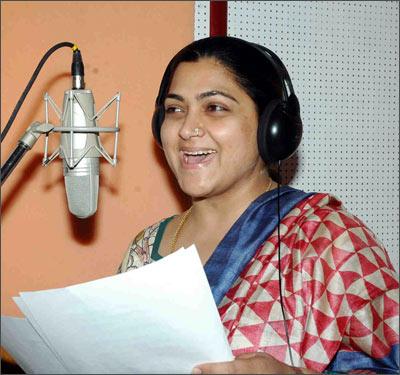 Khushboo, the Punjab-born Tamil actress has been working in Tamil films for almost two decades now. She has donned many caps including a stint in television as well as film production. Her latest avatar is that of a playback singer.
Khushboo has recorded a song in her voice for the film Maganae Marumaganae. The film directed by T P Gajendran stars comedian Vivek and Yamini Sharma (last seen in Indiralogathil).
The song, rendered by Khushboo, was recorded on November 8 in Chennai. Speaking about the experience Khushooo said, "As Gajendran is known to me for many years, he felt that it would be appropriate if I sang this particular song."
She continued, "I was quite nervous at the recording theatre when music director Dhina gave me the tune. But he ensured that the song turned out very well indeed and I was treated almost like a baby. Initially I was wary of the reactions my voice might generate and felt relieved only when director Gajendran and Dhina appreciated my voice once the recording was over. I obviously felt elated. It was only after the experience did I realise how difficult playback singing is!'
Text: Aravindan