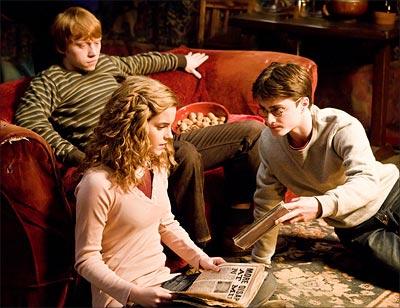 Harry Potter fanatics were more than a little miffed at the decision to delay Harry Potter and the Half-Blood Prince till Summer 2009, and understandably so.
After all, by that point, it will have been two full years since Harry Potter and the Order of the Phoenix launched in July 2007, the longest wait yet between instalments of the much beloved bespectacled boy wizard film series, of which Half-Blood Prince is the sixth.
Well, this weekend gave the hardcore Harry fans a reason to rejoice, albeit a small one. The first international trailer has lead, showing numerous new scenes from the film in the process, and can be seen here at trailer-addict.
What do we see? The youngsters are growing up -- note Ron snatching a smooch from Lavender Brown! -- and it's time for Harry to learn more about his legacy and to undertake more responsibility.
And what of all the darkness and evil? Draco, Death Eaters and Tom Riddle make appearances, to name a few.
So, all you Potter maniacs, check it out. Perhaps it can tide you over till summer!