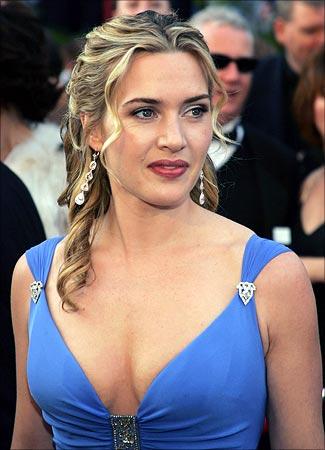 Kate Winslet, the 33-year old, five-time-Oscar-nominee has unveiled her sexiest, most elegant avatar ever in an enchanting set of photographs published in the latest issue of Vanity Fair magazine. The images are reportedly a tribute to Catherine Deneuve, from 1967's Belle de Jour.
In the set, the blonde bombshell, utilising seductive poses and wearing next to nothing, showcases a figure most enviable along with the alluring eyes and luminescent skin she's famous for. Considering that she's a mother of two, it makes the photographs all the more unbelievable.
But her publicist says, at least according to a UK Telegraph article penned by Anita Singh, the impeccable body is very much real, having 'not been airbrushed at all.'
Most other stars, it seems, would happily receive a little digital assistance. But not Winslet. She and GQ magazine had a high-profile spat in 2003, when the men's publication diminished her hips and lengthened her legs via airbrush. So the star of 1995's Titantic has really painted herself into a corner, pun intended.
In the accompanying interview, she reminds Vanity Fair -- an influential high society publication -- she's just like everyone else, telling everyday women not to despair:
'Oh my God, there's no secret. I have make-up on. And by the way, since I turned 30 I've had an acne problem on my chin. I'm just like everybody else -- I just know how to cover it. If you'd like me to show you how, I'd be more than happy,' she says.
She goes on to admit that, as a youngster, she was nicknamed 'Blubber', owing to her to portly figure.
'I never had a desire to be famous... I was fat. I didn't know any fat famous actresses. I just did not see myself in that world at all, and I'm being very sincere. You know, once a fat kid, always a fat kid. Because you always think that you just look a little bit wrong or a little bit different from everyone else. And I still sort of have that.'
Long regarded as one of Hollywood's top female leads, two of Winslet's upcoming films are already generating lots of positive buzz: Revolutionary Road and The Reader.
And does she get all caught up in the Oscar hoopla? Well, according to the Vanity Fair interview, definitely. 'Do I want it? You bet your (expletive) I do! I think that people assume that I don't care or don't want it or don't need it or something. It's hard to be there five times and I'm only human, you know? But I don't go home and cry, because we're all grown-ups here.'