Sunday night, I shared a steak with dad. Father's Day is really a bit of a stretch in terms of a day of celebration, but, especially in our mother-worshipping motherland, dads take what they can get. So, to go with the tenderloin, I decided this week's column ought be a look at how our cinema usually says papa.
Instinctively, the first look is at the cinema I enjoy the most and I realise, surprised, that nearly all my favourite Hrishikesh Mukherjee movies or Shammi Kapoor films or 80s comedies, worked in a dadless space, with spaces filled by chachas and jeejajees and guardians to orphaned millionaires. It's almost as if distancing the hero from the paternal character would give him more impetus to break ground and do his own thing instead of standing in a shadow.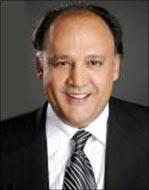 Not to say shadows didn't exist, of course. The primary mention of the cinematic dad must be accompanied by a glance at the wall to see The Photoframe Pitajis, dearly departed police inspectors of yore. In a tradition standing to this day, Bollywood mothers position their sons in front of dad -- who was usually too honest to really make a living -- and, with the photo glaring blankly down on them, make attempts to admonish or inspire their younglings.
And then there's Alok Nath. Sorry, but he's virtually a daddy genre in himself. Technically speaking, I guess you'd call this category The Barjatya Babuji, a paragon of good-natured virtue potentially endangered by cholesterol and tearduct-overflow. Anupam Kher, Satish Shah and Ajit Vachchani also feature in this category where family supersedes everything else. Note: these days Karan Johar usually borrows a few of these blokes.
Actually Anupam Kher himself, as a longstanding character actor, has prolifically essayed every imaginable kind of father role. Be it a millionaire persuading his daughter to flee her own wedding, an old man grieving for the death of his child, an alcoholic struggling to come to grips with the bottle and his defiant daughter, or a Dilliwalla trying to break the ice with his disgruntled younger son, Kher's been a truly memorable screen dad -- even when he's simply running through you-can't-marry-him-he's-poor cliches.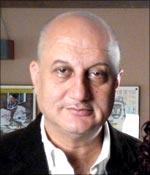 He also makes for a most appropriate segue into our next vital category, The Evil Ladki-Ka-Baap. This category features an affluent cigar smoker who buys his daughter a sportscar for her seventeenth birthday and encourages her to go bicycling with her friends and to parties with industrialist scions who are obvious scoundrels. The girl loves this dad and can't bear to hear a word against him from her chauffeur hero, until she walks into his den one evening and discovers an elaborate smuggling operation. Oops. The henchmen and the blinking scarlet phone in the den should have been a giveaway, though.
Other categories include: The Decrepit Daddy, a category monopolised by the ever-consistent AK Hangal, where the dad looks clearly in grandpa territory as he whines from a chatai and remembers the good old days; The Funny Father, a category where absolute astonishment overwhelms Utpal Dutt, Paresh Rawal and the like, leadings to a series of supremely far-fetched misadventures; The Pitying Pop, a generally widowed sympathetic soul who likes his son's indiscretions and frequently winks at him, signaling that he live life rogue-size; and The Dude Dads, younger actors trying to earn their acting spurs (and emo brownie points) by showing up with on-screen brats and using basketball analogies to explain the kids' dead mother.
Hollywood blockbusters -- those painfully written summer releases -- routinely slot dad into a few basic roles as well. The ones that come to mind most readily are Adventurous (Sean Connery as Indiana Jones' dad, cast because nobody else could imaginably spank Indy but James Bond); Hapless (Crispin Glover as George McFly in the Back To The Future series); Caricatures (Robert De Niro playing yet another mafia role); Meticulously Impressive (George Clooney or Brad Pitt taking on the dad tag) or just plain Wisdom Imparters (mostly anything with Anthony Hopkins, Michael Caine, Robert Duvall or John Voight over the last decade).
Hindi cinema too has had its share of superlative father performances, and I close with Naseeruddin Shah's fantastic acting job from Masoom. It's one of the great man's finest performances, a tough role where he put on director Shekhar Kapur's jackets and ties to try and get under his skin and play him, just to create a totally fleshed out character. I stop now; let these few awesome minutes of video do the talking.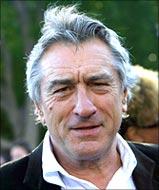 We could go on and on about favourite fathers, from Godfather II to To Kill A Mockingbird to Kramer Vs Kramer, but let's leave that for later.
Okay, so this piece started out being cheeky, but by the end of it, I'm kinda choked up just thinking about all the diverse paterfamilias captured on screen over the years. They've been funny and flawed, fatalistic and foolish, ridiculous and realistic. They've been dads, in short. And we can't ever quite do without them.
Fittingly, let's end this on an awesome note: Click here right now to relive the greatest father scene in bigscreen history.
Who's been your favourite on-screen father? What cinematic moments have brought you and your father closer? What's the first film you remember staying up late and watching with your dad? Write in with any random musings you may have about this article or cinema or whatever to senterfold@rediffmail.com. Till next week, live long and prosper.
PS -- The Senterfold mailbox has been flooded with readers directing me to a blog where some director fellow has ranted most amusingly about a few critics, me included. I'd just like to clarify that I am not trying to direct a film, and while there are a few scripts in the pipeline, I have signed each of them up -- you'll get the news soon; I don't believe in premature chicken counting -- before writing, so I don't know where the thought of 'hounding producers' comes from. I just wish the director could do a bit more research instead of writing what he could well be sued for. As for the review-comments, opinion is always fair game, but it'd be fab if the director paid as much attention to the review as I did to his film, took ten more minutes to understand what is written, instead of dashing off an ungrammatical, context-less series of answers to random sentences from the review. Disparate, for example, doesn't mean desperate. :)