There are two actors in India whose films I find very difficult to judge objectively; they are Kamal Haasan and Mohanlal. Despite my very conscious efforts to find loopholes in their films, I end up enjoying the fine nuances of their superior performances laying aside my critical microscope.
Like Mohanlal has been letting me down of late with his inane films and indifferent and bored acting, Kamal Haasan has also been disappointing me with his predictable and repetitive expressions and actions. But no film of his has disappointed me as much as Dasavathaaram did. Not even Mumbai Express.
Also Read: Showcasing Dasavathaaram
In fact, it is very easy to dislike the film and get dissatisfied with the much hyped ten performances.
But first, let me talk about the 11th role that Kamal Haasan has performed; that of the script writer, which he has failed miserably. Perhaps the idea was to write a script akin to Babel or Crash where the story bounced from one place to another with the basic thread connecting all of them remaining intact. But in Dasavathaaram, there is no solid story and there is nothing to connect the various characters that popped up with plaster of paris pasted on their faces.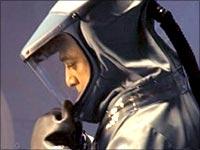 The biggest failure of Dasavathaaram is the lack of a proper story, a tight screenplay and well connected characters. One gets the feeling that because Kamal Haasan wanted to make history by portraying ten different characters, he created them. Otherwise, one cannot think of any justification in him appearing all sorts of get-ups.
Yes, the film starts amazingly well; the 12th century sets, Kamal Haasan as the temple priest and above all Ravi Varman's stunning cinematography raise your expectation levels. As the film progresses, you tend to feel trifle let down and by the time the film ends, the only feeling you have left is that of disappointment.
Of the much hyped ten avatars of Kamal Haasan, except for two -- Rangaraja Nambi, the 12th century priest and the investigative officer Balram Naidu -- the rest looked as if they were participating in a school fancy dress competition. You go to a Kamal Haasan movie to watch his subtle performance but in this one, in his over eagerness to disguise himself, he has denied the viewers a chance to view his face and the expressions. The thick layers of opaque make-up on his face hid all the expressions. The eyes were so sunken below the mask that you could not see any feeling in them.
Okay, had it been a fancy dress competition, Kamal Haasan as George Bush and the Punjabi pop singer would have won consolation prizes, but definitely not any prize for Christian Fletcher, who looked more like a mannequin than a menacing villain. The Japanese martial arts expert was more wooden than human, the tall Afghan, Kalifulla Khan was pathetically synthetic and the worst was the 100 year old paatti. She would be disqualified for the most atrocious make up.
One nostalgically thought of the four different characters Kamal had done exceedingly well in Michael Madana Kama Rajan; mind you, without the aid of any mask. But what a performance it was, especially the Palghat Brhamin! True, he was aided by an excellent script.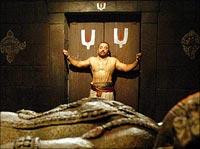 Now, to the much talked about tsunami scenes. Agreed, Brian Jennings and his team worked hard to recreate the fury of the sea. Were they successful in their efforts? I don't think so. Those who have seen the ferocious tsunami and its aftermath will shudder at the casualness with which the disaster has been  picturised. The scenes which are supposed to shock you do not even touch you mildly.
No other actor in India can be as good a lover on screen as Kamal Haasan. His films have been loved for the electrifying chemistry he exhibits with his leading ladies whether it was with Srividya in Apoorva Raagangal or Sridevi in Moondram Pirai or Madhavi in Raja Parvai or Amala in Pushpak, but for the first time, you see him so detached from his leading lady. There is absolutely no chemistry between the leading pair; in fact, he also looked far too old to be paired with a much younger Asin.
Lastly, what was the filmmaker trying to achieve by throwing a gem like this; that the 'bullet flew away with the cancer from the pop singer's throat? A dig at the 'superstar', perhaps?
In Dasavathaaram, I did not see the Kamal Haasan who moved me to tears like he did in Mahanadi, who made me laugh uncontrollably in Pushpak or Michael Madana Kama Rajan, or stumped me like he did in Nayagan or bowled me over with his intellectual innocence as he did in Sagara Sangamam.
To tide over the disappointment of watching Dasavatharam, I am going to watch again the DVDs of timeless classics like Nayagan, Moodram Pirai, Sagara Sangamam, Michael Madana Kama Rajan and Pushpak. Let me see the Kamal Haasan I missed in Dasavathaaram.