Why is it that directors think their interviews aren't relevant enough to last beyond the week of pre-release hype? It's insane. They say anything they want to promote their film, but what is the need for absolute falsehood? Public memory might be short, but newsprint -- and weblinks, today -- live on, yet our directors continue to say things for the heck of it.
First of all, there's that bunch of directors who stoically -- and incredibly, with a straight face -- deny, till they go blue with fury, that despite what the promos tell you, their upcoming film shares no similarity with whatever DVD you accuse it of.
'It's just the same name, that's all.' 'Just because it has three men and a baby doesn't mean it is Three Men And A Baby.' 'Only a couple of shots are inspired by Oldboy'. 'It has nothing to do with A Few Good Men, except that the hero looks like [sic] Tom Cruise, heh.' 'But Bergman's Wild Strawberries didn't have songs, you see...'
And that's the other thing. If you wholeheartedly rip-off an existing film and then add songs to it, it doesn't make it yours. Or, thanks to most English films having an average running time of 90-100 minutes, if you add another half a film (usually filched from another DVD), that little bit of what you may consider clever remixing doesn't earn you the right of creative ownership either.
Plus, there are the ones who are trying to build and/or dispell rumours. 'No, she doesn't wear a bikini.' 'No, he is the hero of the film and won't die midway through.' 'No, everyone has roles of the same size and importance, this is a true multistarrer.'
These blokes are somewhat justified in their attempts to quell irrelevant talk before the release of the film, but surely there must be some ways to circumvent silly questioning (and there is a lot of that about) without having to lie through your teeth.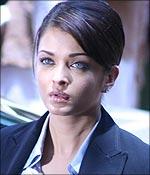 Especially when, as a filmmaker, you're likely to have a lot of pertinent stuff to say about your upcoming film without having to give in to rumour or untruth. I mean, you're saying stuff on the record, can't you just talk about your movie, the making of it, the performances, the conceptualisation, yada yada yada?
I just think there's no point, and thanks to all this constant fibbing, it's very hard to believe directors even when they are being truly sincere.
And then there's Ram Gopal Varma, whose only response to the media circus is to never take it seriously. He's gone on record several times to declare that he contradicts himself and says things for purely reactionary purposes, and that, in his own, characteristically quirky way, is a bit of alright.
Except, while watching Sarkar Raj a few days back, I guffawed at the thought that had Aishwarya Rai's character truly been played by a man -- as Varma claimed in millions of recent interviews proclaiming her asexuality -- Bollywood would truly have broken new ground.
We would have had, albeit ludicrous, our most progressive mainstream movie scene without doubt, with homoerotic overtones positively painting the screen pink -- as a power-plant builder and a mafioso brat stroked each other's hands with tenderness, before the bullets broke out. Wow. Talk about high drama.
Think this is being too harsh on directors? That they should say whatever they want? Or want to bring up a director who is genuine more often than not? Rant, rave, scream or just lie to me at senterfold@rediffmail.com. Ciao.