Sorry, y'all.
When I started this column a couple of months ago, I made a sober internal vow to answer every single person who actually takes the effort to mail me with comments and criticism, and I've been staunchly attacking that inbox.
And boy it's fun! There is actual coherent dialogue about cinema and recommendations and joshing, and it's such an exciting privilege to be in the middle of it. (Do I sound too thrilled? Do remember that I'm used to the messageboards so far, so this input feels miraculous!)
Over the last three-four weeks, however, there's been far too much email in the Senterfold inbox and while I am tackling a lot of it daily, I sincerely apologise for not having gotten back to many of you yet. Will write back as soon as possible.
For now, since a lot of the questions from you guys keep overlapping, I thought I'd answer a few of them publically and open up the inbox doors to even more questions. Keep them coming, please. Here are five of the most popular ones I haven't answered yet:
What is your favourite Amitabh Bachchan movie?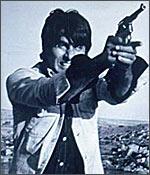 Toughest. Question. Ever. Okay, even if not ever, it's pretty damned hard. We all grew up idolising the Big B and memorising his lines, and this is an impossible ask. While the films that clicked when I was young -- Shahenshah, Toofan -- remain guilty pleasures forever, and I have an inordinate love for The Great Gambler, a true Best-Of list for me would have to include -- in no particular order -- Satte Pe Satta, Don, Main Azaad Hoon, Silsila, Sholay, Abhimaan, Do Aur Do Paanch, Deewaar and, obviously, Zanjeer.
I include a lot of comic parts in my list simply because Bachchan is by far the single most talented leading actor we've had when it comes to comic timing. Despite his well-deserved Angry Young Man status, it is his understated graciousness and realistically awkward fumbling with lines that has endured over the years, and turned many a merely funny moment into brilliantly hilarious spectacle.
Undisputably at his best in the Hrishikesh Mukherjee movies, my favourite Amitabh performance remains Chupke Chupke, that perfectly crafted comedy, where, by sheer dint of spectacle-pushing enthusiasm, Bachchan effortlessly steals the show away from leading man Dharmendra. Priceless.
Why has this year been so bad for Hindi films so far? And what upcoming 2008 movie are you looking forward to most?
It has been awful, hasn't it? I enjoyed Mithya, but that's pretty much it. I think the IPL might have scared off a lot of producers, but even before that, I think this has been a particularly ghastly, highlightless year simply because there haven't been enough releases.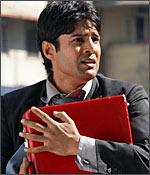 Everyone seems to have been waiting for the second half of the season, a pretty half-baked strategy if you ask me (which you shouldn't, by the way, I am by no means a trade analyst) since this lack of good films has allowed mediocre films like Race to turn into superhits just because there isn't anything else playing in theatres.
Frankly, I'm afraid I'm not looking forward to that much among the upcoming crop. Still, there are a few things I'd like to see: I'd like to see Sarkar Raj be a big hit, because Ramu could do with some wind beneath those wings; I'd like to see Anurag Kashyap finally win over critics and fans with his exciting Dev-D; I'd like an indie comedy so funny it makes me choke, like Khosla Ka Ghosla or Loins Of Punjab Presents earlier; I'd like to see just how much Aamir Khan can do with his Memento-gone-South remake in Ghajini; I'd like Imtiaz Ali to make me grin again; I'd like Sriram Raghavan's stab at romance to hit theatres; I'd like to see a burst of originality that realises the potential 2007 showed just in fits and starts...
Well, I'm an optimist. Speaking of the moment, I'd like all of you to watch the top-notch Aamir, hitting theatres on Friday. I haven't typed up my review yet, but seriously... wow.
Enough talk about what the Americans do; which is the best Indian show on television?
To be fair, it is conceivable that one of the many painfully derided saas-bahu soaps has a great story and believable, deeply etched characters and is an overlooked masterpiece I know nothing about since I don't watch... ah, who am I kidding? I'm sick and tired of TV these days, with the constant glut of reality shows completely cloned off each other, what with one nasty judge and a name stolen from some recent hit song.
What does work for me, though, is Deven Bhojani's fantastic Sarabhai Vs Sarabhai. Superbly cast and with well-written characters, this is a quality sitcom that works surprisingly well even when watched back-to-back, and only gets farcical at the rarest of times. Check it out on Star One if you haven't already. This Cuffe Parade family is memorable in the best possible way; no one member can be singled out for praise.
Why do you keep complaining about background score in all your reviews?
Ah, have I been whining again? You're right though; it has been a longstanding grouse. We keep making cinema that looks good but it seems our filmmakers aren't confident enough to let the good frames stand on their own without throwing in some constant-crescendo background score.
Often tender moments that could even realistically work are plunged instantly into the depths of melodrama and mediocrity simply because the character's anguish is conveyed not just by the actor's downcast eyes, but also by a violin-and-sitar orchestra riffing along with great 30-piece gusto.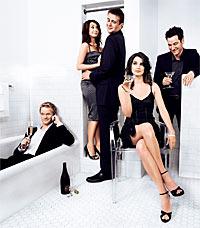 Audiences do not need to be told what to think, how to feel.
How many movies can you possibly watch every week?
Well, on average I keep it one review per week, so that's one theatre visit a week -- on a good week. On a bad week it can go up to watching upto three movies in the theatres. As you can imagine, when I hang with friends, going to the multiplex is usually the last thing on the agenda.
As for DVDs etc, I probably end up watching about five films a week, more or less. And this includes everything, from subtitled to sophomoric, from Bunuel to Bokadia to Borat. It's all under control until friends come over for a DVD marathon, or I get to the TV shows on DVD. I've just finished the complete three seasons -- that's 62 episodes -- of How I Met Your Mother in just the last five nights. Great fun, by the way. Yup, sleep is overrated.
Furious that I didn't have Amar Akbar Anthony on my Bachchan list? (Basically because I prefer solo Amitabh movies, not ones where he is made to share screen space and we have to wait for his bits) Have more questions about these answers? Talk to me, people. Or just yell. I'm at senterfold@rediffmail.com. See you next week, cheers.