For all they know, the next Cheetah Girls movie could be shot in the Antarctica. But right now, the platinum-selling recording artists and actors Adrienne Bailon, Sabrina Bryan and Kiely Williams would love to return to India and dance on the streets, joining wedding parties and getting to know more about Bollywood. The three starred in The Cheetah Girls One World, shot entirely in India.
To be telecast on Disney Channel on August 22, the film will bring a bit of Bollywood into millions of homes worldwide. The makers of the film believe that the fun film, which has created a lot of curiosity and buzz, will open another window on a popular world culture for teenagers across the world.
The film was mostly shot in Udaipur and Mumbai and tells the story of best friends Chanel, Aqua and Dorinda, as they pursue their dream of becoming recording artists and start on their biggest adventure yet -- starring in a Bollywood movie. But once in Mumbai, they are surprised to learn the producer only wants one Cheetah Girl to be in his movie.
The three actors also say that their newest film is about testing the bonds of friendship.
The Cheetah Girls are unanimous about the fun they had in India far exceeded their experience in Barcelona where the previous Cheetah Girls movie was shot. Kunal Sharma, one of the several Indian artists in the film, says they may never forget the wedding parties they attended outside their shooting schedule and the elephant ride they had to in the film.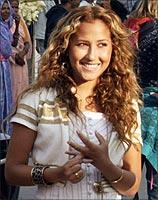 'We got offers to go to other weddings after they saw how good we are in dancing at their weddings,' he said at a press conference recently in Los Angeles.
So was the elephant ride in the film aone of its highlights?
"We're not going to lie," said Adrienne Bailon. "It was scary at first. It's not something I would ever do if it was not a part of this movie. But it gave me an opportunity to do something that I probably would never do on a normal basis. [Director] Paul Hoen helped me through it."
The 73-year-old elephant is seen lying on her belly. "She was super, super big, and we still had to take a ladder to get up into the basket, and then from there she puts her front legs straight," said Sabrina Bryan. "So you're on this roller coaster with no tracks, holding on, while she brings up her hind legs."
Kiely Williams thought it was all good once the elephant stood up.
It was a tough shoot, Sabrina added. "We were trying to lip sync and trying to wave and trying to look kind of pretty. The way she walked was scary too," she said.
At one point Hoen stopped and asked, "Do you guys know the words to your own song?"
"We're trying to concentrate and not die," Sabrina chimed in.
For choreographer Fatima Robinson, blending the dance styles was an important responsibility. "I was trying to blend what we call western dance with classical Indian dance," she said at a press conference in Los Angeles recently. "I had an Indian assistant, and I basically took class in the very beginning and learned some of the what we call Bollywood basics in the way of dance and then incorporated it in my style of dance. So it was really just merging the two worlds together and coming up with some really cool stuff that kids haven't seen here in America."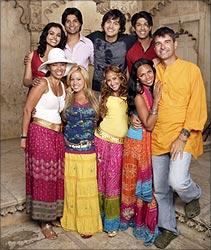 The actresses say they keep humming Bollywood songs they chanced to hear during the Indian sojourn. And also they cherish the fun they had performing their own songs and dances.
Sabrina says her favourite musical dance number Dance Me If You Can, was filmed at the Monsoon Palace. "The hotel is on top of this huge hill that we had to drive up, and by the time we got out of hair and makeup, the sun was rising," she recalls. "You could see all of Udaipur, and it was so amazing. It was so awesome, everywhere we shot was just incredibly gorgeous."
Adrienne says some of her friends, who have clips of the song on YouTube, have asked her if a backdrop has been used while Kiely was asked why the outfits were so colourful.
"You see women just walking down the street like in orange head to toe," she says. "It all matches, and that was really cool, just being able to walk the streets and feel like you live there. The best part was, we didn't feel like visitors after a while. We actually felt like we live here."