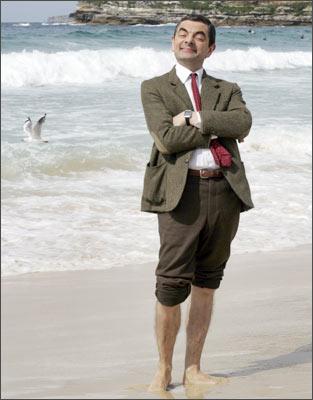 Worldwide, Rowan Atkinson is known simply as Bean. Mr Bean, that is.
A lovable buffoon whose slapstick physical humour won over hearts in a hundred countries, the role of Bean never required much in the way of serious acting.
But now Atkinson -- whose career in comedy spans several decades -- has decided to turn his attentions to drama.
In Sir Cameron Mackintosh's upcoming super-sized production of Oliver!, Atkinson will breathe life into the head of an orphan street gang -- the infamous Fagin, best known as the genius behind the orphan's sing-song motto: 'You've Got to Pick a Pocket or Two'.
And though the part calls for humour -- Fagin after all has trained the precocious and irreverent Artful Dodger -- it will also force Bean into an entirely new and uncomfortable world, one wrought with pain and jealously and greed and envy. In short, all the worst parts of humanity.
In a recent piece about Atkinson in the UK's Guardian, Oliver!'s director Rupert Goold said of his Fagin rendition that, 'I think the thing people will be most surprised about is the complexity of the character. I'm sure they expect him to be funny, but he's delivered something that is really complex.'
The article goes on to explain how one of the UK's most outrageous funnymen is actually quite diffident off-stage and out of the limelight.
In speaking with former co-workers and fellow stars, a picture of Atkinson emerges that is quite consistent: a quiet, dedicated professional who is not addicted to the lure of cheap laughs. He's a performer, surely, but not a desparate showman.
We also learn that, as a child, 'performing was not in his blood'. As a student, he was teased by classmates and remembered by the school's headmaster as 'shy with a slight stutter'. He later went on to study engineering science at Queen's College, Oxford, a world far away from the bright lights of show biz.
Yet, some 30 years later, he's a legitimate star with an impressive record to his name.
Now, with an impassioned performance as Fagin, he's prepared to write the next chapter to his storied career.