All those expecting Ghajini to be a take on Memento better keep their hopes in check.
Sure, the first publicity stills from the film show Aamir Khan channeling both some over-steroided WWE wrestler as well as the hero from Christopher Nolan's fantastic 2000 thriller. The similarities are too obvious -- clues and leads tattooed across the body, polaroids of hints captured before memory flits away -- and even if Khan is bulked up like a human growth hormone advertisement, the makers of the upcoming release admit that he suffers from short term memory loss in a way pretty much identical to the anterograde amnesia showcased in Memento.
Yet going in expecting a fresh, nouveau-Bollywood spin on one of the most groundbreaking thrillers in years would be asking for... not too much, but too predictable a product. And Ghajini's setting itself to offer you a whole different brand of masala.
Directed by AR Murugadoss and based on his own Tamil blockbuster Ghajini from three years ago, Ghajini is a pretty hardcore masala film. Sure, the protagonist suffers from the same affliction, but this is a film bogged down by a vaguely written screenplay, far too much action than the script can reasonably handle, several songs flitting through the narrative, a hideous third act, and two leading ladies. Yup, so we're talking a dumbed-down Memento suffering from a severe case of blockbusteritis.
Oh, and we aren't just talking masala, mind you. We're talking full-blown punches felling dozen goons, kicks breaking through walls, heroine thumkaing in the middle of plotpoint, gunpowder-flavoured sambar masala. The only reason Ghajini was a highly acclaimed smash hit was because there was some attempt at crafting a plot between all the punches, and the paying public accepted a film that delivered all they wanted plus some stabs at an actual storyline.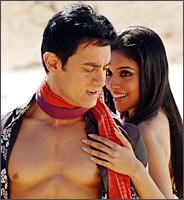 The new Aamir Khan will invariably be a tad more subtle but -- as the trailer, where Khan kicks face with red-eyed fury interspersed with an I'm-so-happy song -- it will likely only be a tad.
Hence, it's advisable to check your disbelief in at the door and go in with the finest frontbencher mindset you can muster up, ready to whistle at well-executed kicks, dramatic interval points, and what are frequently referred to in Southern cinema as 'punchy dialogues,' the kind of oft-repeated cult quips that have given Rajnikant the nearly ineffable status he has today, where half the country calls him, quite simply, 'Boss.'
Perhaps that is the new tag Khan is now working towards, a self-styled CEO of cool. Khan's Ghajini hairstyle (using the word loosely) features a ruggedly shorn crop of barely-here hair, with two distinctive grooves cut through the scalp. In context of the film, this possibly makes sense for an institutionalised mental patient, but the lack of amnesia doesn't stop India's youth from aping the actor. For months before the film came out, 'the Ghajini cut' has been in vogue, enriching cornershop barbers and hairstylists alike who can't believe charging extra is as easy as a military-cut with a couple of extra arcs thrown in. That, ladies and gents, is the power of Club Aamir.
And then there's that other cult, led by the curly-haired maestro from Chennai. It's been a characteristically strong year for AR Rahman, what with hits like Jodhaa Akbar and his youngest-sounding soundtrack in ages, the delightfully collegiate Jaane Tu... Ya Jaane Na. There have also been albums like Ada and the soundtrack to Yuvvraaj, which, while disappointing by Rahman's usually stellar standards, has still managed to rake in the default plaudits.
He's currently in the news for his work on Slumdog Millionaire, the Danny Boyle film primed to be this year's Oscar favourite, and the soundtrack to the Mumbai-based film will hit stores the same day Ghajini swaggers onto the screen.
And what a gloriously radical soundtrack Ghajini has. The maestro is clearly having fun with the songs, and finds a magical middle-ground between utterly commercial and completely ad-hoc. Most of the tracks switch song-styles (heck, even genres!) a couple of times, and there are a couple of tracks where you can picture the composer's glee as he tosses more ingredients, with sublime sporadicity, into the mix. This is Rahman in mad-scientist mode, and it's very difficult to stay unaffected by the sheer, heady enthusiasm packed into every second of this soundtrack.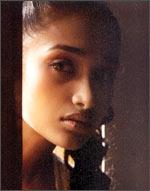 Plus there's the girl, fresh-faced and lissome 23-year-old Asin. A preternaturally gifted actress, she's been lapping up both accolades and megabuck contracts down south, and is all primed for her Hindi debut. Like director Murugadoss, she's carried over from the original Ghajini -- and she was decidedly the best part of that film. Khan seems to have latched onto the fact that current Bollywood actresses are either talentless stunners or old hat heroines, and there is far more vibrant talent to be found in cinema down South. Jaane Tu, while a vehicle for Aamir's nephew Imran Khan, reintroduced Bollywood to the hitherto neglected Genelia D'Souza, and there was much resultant swooning. The Asin effect is likely to be much the same, if not more.
An Aamir Khan film has, over the last few years, become a new benchmark in Bollywood quality. With the exception of the horrendously lampoonable Fanaa -- which possibly balanced out the mediocrity by making the most money -- Khan has been showing great panache as both producer and director, and there is a certain decidedly above-par polish his current products display. From cinematography to effects to music to production design, Khan seems dedicated to presenting a complete package. And it's an effort we must applaud.
And while it may be distressing to read the actor saying he 'didn't understand Memento,' it is an exciting prospect to put aside our cinephile glasses and prepare to pucker up and whistle hard. How often do we get to see Aamir Khan kick face anyway?