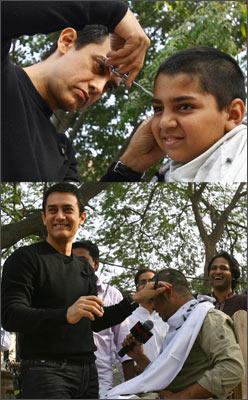 Aamir Khan adopted a new way to promote his film, Ghajini. He put up a pair of scissors and gave some fans a haircut, similar to his own Ghajini cut.
The actor set up a barber shop in Bengali Market, New Delhi, on Sunday, and tried an alternate career for a few hours.
Earlier, Big Cinema's employees flaunted Ghajini hairstyles, which is steadily becoming a craze among youngsters.
Aamir's Ghajini look has been designed by his loyal hairstylist Avan Contractor.
Photographs: Reuters