With a number of top nominations, Doubt could emerge as yet another triumph for Meryl Streep whose Mamma Mia! is ending its glorious worldwide with over $ 560 million.
No two roles can be more dissimilar. In the musical, she is a feisty and independent mother of a rebellious daughter, and in Doubt, she plays a dogmatic and old-fashioned nun.
Streep was nominated in the best actress category at the Screen Actors Guild awards, while Philip Seymour Hoffman, who plays the reform-minded priest caught in a nasty controversy, was included in the supporting actor category. Amy Adams and Viola Davis scored nominations as supporting actresses. The film also grabbed a fifth nomination in the ensemble category recognising outstanding performance by a cast of a motion picture; among its competitor is the Mumbai-based Slumdog Millionaire.
The movie opened to robust business in 15 theatres in North America, collecting about $ 700,000 in five days. It will add to hundreds of theaters in the next few days as the holiday season and Oscar nominations come closer. It will join small and medium budgeted films (reportedly cost $ 40 million) like Frost/Nixon and Revolutionary Road in its fight for audience attention.
Doubt, which has also received five Golden Globe nominations, including one for the best screenplay for director John Patrick Shanley. The movie is based on a hugely successful play of the same name which won a raft of awards, including the Tony, for the best play.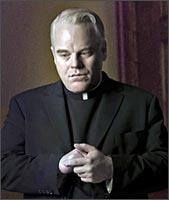 The well-acted thriller Doubt is set in a Catholic parish and school in the Bronx in 1964. The audiences will have to make up their minds about the guilt of a Catholic priest, who is accused by a righteous and shrill nun of sexually molesting an African American student. Streep is Sister Aloysius who seems to have perfected the art of keeping the students and nuns under her thumb. She has a running battle with the outgoing and genial Father Flynn (Hoffman). But the verbal sparring takes a new turn when Sister Aloysius determines, after hearing rumours, that Father Flynn has molested a male student. But Sister James (Amy Adams) has her own doubts and yet she cannot convince her superior to keep an open mind.
Adding to the complex situation is the boy's mother (Viola Davis), who in the film's most heart wrenching moment, recounts the problems her son faced in the school and how Father Flynn was the only one to really understand the humiliation and stress the boy had suffered. She even seems to be willing to accept the priest's alleged transgression.
The movie is on many leading critics best 10 lists for the year, though some like The New Yorker, have dismissed it as shallow and theatrical.
'Doubt has exact and merciless writing, powerful performances and timeless relevance,' wrote the Pulitzer Prize winning critic Roger Ebert in Chicago Sun-Times.' It causes us to start thinking with the first shot, and we never stop. Think how rare that is in a film.'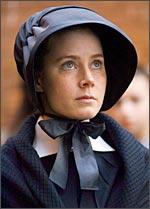 The holiday season, usually filled with light-hearted films, will see some heavy but engrossing films like Slumdog Millionaire, and Milk, a riveting screen biography of a gay activist who was gunned down in San Francisco by a former fellow city officer. Revolutionary Road, a penetrating study of a failed marriage and based on a novel of the same name by Richard Yates, will open in limited release on December 26.
Frost/Nixon, another well regarded film and which offers a fictionalized drama of 1977's televised debates between a post-Watergate Richard Nixon and the eminent journalist David Frost, is also trying to win the more serious moviegoers this season.
'Though Peter Morgan (the script writer) and director Ron Howard intended audiences to draw comparisons between Nixon and President Bush, they didn't want their movie to be didactic, wrote Los Angeles Time, 'which might have happened had it come out earlier and the course of the nation not shifted on November 4.
'Because Bush has lost, or his policies have lost, he's now rather like the Nixon character,' Morgan told the Times. 'He's been rejected and ejected, and that empowers the audience -- they are now free of him, and his yoke... You need to let an audience create a narrative in their own head, more than creating a narrative for them to follow.'