Ever twiddled your fingers in anticipation of Friday? Love the sound of 'First day first show'? Will defend your beloved movie even if it means challenging your boss? Judge people by their favourite film? Consider samosa, popcorn, coke as cinema cuisine? Congratulations, you're a certified-to-the-point-of-no-return film buff!
Actually, this entry wasn't going to be about love-me-love-my-movie.
Thing is I-am-bitten-by-the-Ghajini-bug (which releases in almost a week from now). And I am simply dying to watch it, ever since I saw the talkie-promo. Obviously, a private screening is out of question so I decided on opting for the smartest alternative available -- getting hold of its DVD of the Tamil version starring Surya, i.e. After all, nothing (in most cases) can beat an action-packed original. If anything else, it would only fuel my overall excitement further. Also, it would give me an opportunity to discuss the previous one's strength as well as the remake's potential with you guys -- the original subject of this column.
Despite all my urgent attempts, I could not find it anywhere. Another thing -- Why isn't regional cinema easily available? It's unfortunate that you'll find most bookstores selling critically-acclaimed foreign fare but locating a popular Telugu caper like Bommarillu (I can never praise this entertainer enough, by the way) turns into a Mission Impossible saga. The only reason I watched that film is because a good friend couriered a copy all the way from Hyderabad. And then they grumble about increasing piracy.
Anyway, I think I've substantially established that I didn't get to watch Ghajini-1 (in Tamil). But the good thing I read somewhere is Ghajini-2 (in Hindi) is releasing a day before its official release. God bless paid previews.
So what is it about a certain movie that gets your attention more than the others? Sleek trailers? Currently, yes. Nowadays you have channels solely dedicated to promoting films. In the good old days of VCR, however, you had to sit through half a movie before a series of teasers lined-up to catch your fancy. More often than not, the evil person in charge of the remote-control would fast-forward those precious promos, to get on track with the actual movie.
Even so this is not the first time. And it's definitely not the last time I've obsessed about a movie.
Basically, there are two syndromes. In one, you first see the film and realise you l-o-v-e it to bits. It takes priority in your conversations and consumes passion in your defence. Message boards are full of it.
In the other, you are attracted to whatever little you saw (for whatever reasons) and collect/savour every bit of information you can receive about the film till you actually watch it. Here, the verdict is unclear and there's a strong chance of disappointment.
Let's call it the Ghajini pattern. I've had it for years.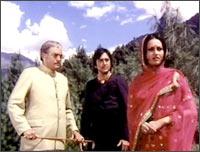 Long, long ago, (1979 actually) Rajkumar Kohli came out with the baap of all multi-starrers -- Jaani Dushman, featuring more than half a dozen stars from Sunil Dutt, Jeetendra, Sanjeev Kumar, Shatrughan Sinha to Rekha, Neetu Singh and Reena Roy. When it came out, I was too young to differentiate Jaani from a Dushman, but several years later I wanted to see it badly. It was quite talked-about in the friend circles. Those who had seen it would act smug. Those who hadn't would beg for details. Had a film like that released today, everyone would have totally panned it. But the late 1970s-80s was an understanding time. It not only tolerated the implausible but celebrated it to the extent of silver jubilee. And so Jaani Dushman was narrated like some urban legend.
Unlike today, where giving out spoilers is commonplace, the identity of Jaani Dushman's mysterious bride killer was uttered in hush-hush tones. Eat your heart out Voldemort? Indeed. Point is; curiosity stems out in the weirdest fashion. Eventually, I did watch this horror flick. It was silly but entertaining. These days, we brand such stuff as 'cult'.
Interest, I've come to realise, is also generated from an ongoing fad. There was a time, 1990s specifically, when Shah Rukh Khan was not just the rage, he was also the trend, which most of us blindly followed. He may still charm the leading lady (even as Surinder Sahni, mind you!), do his thing and guarantee box-office hits. But his appeal in the 1990s was different -- quite young and very romantic.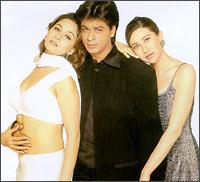 When Dil To Pagal Hai came out, the buzz surrounding it was awesome. The music sold like hot cakes. The teasers looked hot. The advance booking was terrific. Obviously I, the compulsive movie buff, had to watch it against all odds. And I had to watch it on Friday itself. I tried getting tickets for 12pm-3pm. Failed. 3pm-6pm. Failed. 6pm-9pm. Failed. An unsuspecting black-marketer finally came to my rescue. 9pm-midnight, I got to watch the film. It was alright. I didn't enjoy as much as I wanted to. I had build-up myself for that extra something. The moral behind this anecdote is, don't let your excitement get the better of you. And never buy tickets in black. You pay more. You expect more.
Like my tales of anticipation will tell you that this Ghajini pattern is quite a gamble. But I've a good reason to take the risk. Aamir Khan. The man is painstakingly careful with most of his choices -- a trait that has furiously grown with time.
He is self-critical, you can tell. Even as a producer, if it's not good enough for him, it's not good enough for us. That reduces the chances of disappointment greatly.
Then there's the talent bit. The not-so-secret recipe of his perfection lies in his convictions. Some would like to believe it comes from the dramatic alteration of appearances -- hairstyles, wardrobe, etc. But it's truly the honesty and incisiveness with which he tackles a character at a time that hits home.
What more can I say? Now, I am really, really kicked about watching Ghajini 1 and 2. Hopefully, it will live up to everyone's expectations. After all this crazy hype, it bloody well should.
Have you ever felt this way about a movie? Are you excited about Ghajini? Have you seen the original? Do you think Aamir Khan can equal Surya's intensity, if not better it? Write to me!