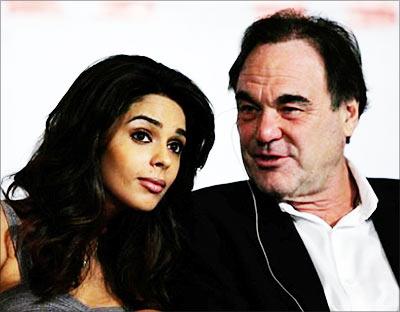 For those wondering where Mallika Sherawat has been, here's news. The actress has been globe-trotting, and rubbing shoulders with Hollywood director Oliver Stone (Platoon, Alexander).
Mallika met the director in Kuala Lumpur, Malaysia, where she was invited as a guest speaker at the Global Brand Forum 2008. She was part of an expert panel where she shared her thoughts with Stone, as well as Dato' Farah Khan, President of The Melium Group, which is into the retailing and brand managing of international lifestyle and fashion labels.
The discussion was moderated by international television interviewer Riz Khan.
"It was a huge surprise for me to be invited to the global forum with Oliver Stone. What do we have have in common, I asked myself. I guess for better or for worse we both have our own brands -- and as Oliver Stone says -- people either love or hate his films, but certainly have a strong opinion about him, his politics and his films. I guess it's the same for me -- some people have embraced me, and others think I'm too controversial, radical for their liking," Mallika says, adding, "To share the same stage with someone who's made JFK, Platoon, Natural Born Killers and U Turn -- all I can say is wow!"