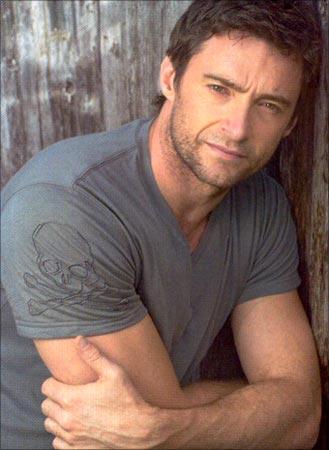 The Academy of Motion Picture Arts and Sciences recently announced that Hugh Jackman will be the host of the 81st annual Oscars, to be held February 22.
The rugged Australian -- who stars alongside Nicole Kidman in the recently released period film Australia -- is perhaps best known for bagging PEOPLE magazine's Sexiest Man Alive award, 2008.
In choosing a good-looking action hero, the Academy appears to have broken its trend of inviting comedians to emcee the prestigious event. In the past, laugh-men Bob Hope, Johnny Carson, Billy Crystal, David Letterman, Steve Martin, Whoopi Goldberg, Chris Rock Jon Stewart and Ellen DeGeneres have handled mic duties, to name a few.
But that's not to say the 40-year-old Aussie is unqualified. In 2004 and 2005, he hosted the Tony Awards, even winning an Emmy Award for his performance in 2004.
In a statement to the media, the Academy's President Sid Ganis said, '(Jackman) is so sparkling and personable, and he delivers,' said academy President Sid Ganis. 'I saw him recently at a Motion Picture Home event on the Sony lot. He is charming and pleasant. The other thing is: He loves (being the host). He loves the patter. He likes to wink his eye at an audience and have fun.'
Jackman too issued a statement, saying that 'Thirty years ago when I was in Sydney watching Johnny Carson host the Oscars with my family, I never imagined that I'd one day have the chance to be up on that stage myself.'
And though it's been over 20 years since a non-comedian was one of the Academy Award hosts, the Jackman announcement is not without precedent. Douglas Fairbanks, Laurence Olivier, James Stewart, Ingrid Bergman, Jane Fonda, Goldie Hawn, Thelma Ritter, Fred Astaire and Charlton Heston are all non-comedians, who have played host on Oscar night.
Still, leading film critics have already come out blasting the selection as 'boring', with one Los Angeles Times columnist wondering if the Academy would pass out 'smelling salts' to the audience.
But the academy is hoping that Jackman, with his good looks and international credentials, will help rope in more. Though the event has historically been known as a ratings magnet, the number of viewers has fallen dramatically in recent years, especially among the young.