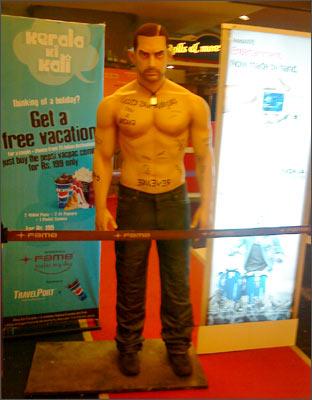 Trust Aamir Khan to be innovative at everything he does. Be it acting, producing or even marketing.
For his latest, Ghajini, which has already created an enthusiastic buzz within the industry as well his Aamir fans, the actor is reaching out to his viewers in a rather interesting fashion.
As you make your way into Fame multiplex lobby at Inorbit Mall, Malad in suburban Mumbai, you'll be welcomed by a nicely done figure of the actor, sporting his much-tattooed bare-torso look from the film.  This is not a first, though. Earlier too, when Shrek 3 came out, the celebrated ogre made his presence felt with its giant statue catching everyone's attention.
Said to be loosely inspired by Christopher Nolan's acclaimed Memento, Ghajini, directed by A R Murugadoss, is a remake of a Tamil hit of the same name. Co-starring Asin and Jiah Khan, the intense action caper hits the screens on Christmas Day.
Text and photograph: Sukanya Verma