My first (and only) encounter with Chiranjeevi was just a few months after the megastar completed his silver jubilee in films. So it was a rather opportune moment to interact with him.
I was quite keen and excited to meet him, after all he was the matinee idol, heartthrob of millions, and a son of the soil, a man of the masses, who by sheer dint of hard work and good films rose to occupy the top slot in Telugu filmdom from the early eighties.
I was interested in seeing the man who had created such an euphoria amongst the masses and who was crowned megastar, perhaps the country's only megastar.
So on the D-day in April 2004, I drove to his swanky residence in the up-market Jubilee Hills in Hyderabad. As I parked my car, I got a glimpse of the breathtaking view below (the house located at the corner of the road overlooked the valley below). Marvelling at the magnificent view and for choosing such a good plot of land, I walked inside. After the mandatory check, I was ushered into the reception area.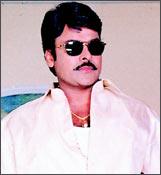 From there I was ushered into the office room, rather spartan as compared to the otherwise plush house (which looked so contemporary from the exterior). Just minimal furniture and a portrait of Mother Teresa adorned the walls of the room.
Within a few minutes, Chiranjeevi walked in, wished me and asked whether we had met before as he felt he had seen me. I said, we hadn't. This broke the ice and set the stage for our conversation which went on beyond 40 minutes. It revolved around his films, his journey and himself.
It was natural that the interview began with his 25 years in the film industry. "Though people think 25 years is a long time in my case, I feel it is a short one. There has been so much of enjoyment, enthusiasm and good feeling. When somebody says it's 25 years, I say Oh really! I did Jagadeka Veerudu Athiloka Sundari 13 years ago but I still remember every shot. Every incident in between the shots I can recollect as if I did it yesterday."
What interested me most was knowing the real man behind the reel image. He chatted like any ordinary person on the success and failures in cinema, and how his failures have helped more than his hit films. He was candid to admit that in Mrugaraju, his physical appearance (as he had put on weight) was one of the reasons in the failure of the movie along with the lack of the proper grip on the script!
I found that Chiranjeevi had a positive outlook about things and people, and tried to brush away bitterness. "If we retain bitter things in the memory we will develop a grievance against the person then we will become enemies. Basically enmity is not good. If anybody did something bad, I think about what I did that they might have felt bad. Through self analysis, I try to look at how they reacted. That way, I attempt to wash off the bitterness."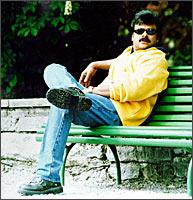 Being amidst people and family, he said, helped him to be rooted. For him the reel world and the real world were two distinct identities. He was aware of where he came from. He said "one should be strong about one's roots and one should not lose one's origins." He loved his family. Self introspection (which is like meditation) helped him considerably.
He said, "An artiste has social responsibility. That may be because I had heard a lot about MGR. Sharing something and sharing happiness makes one happy. After shifting to Hyderabad from Chennai, I felt I should do something like Mother Teresa. It is my bad luck that I couldn't meet her."
Being an ardent admirer of Mother Teresa, I am not surprised at his decision to start the political party on her birthday (August 26).
At the end of the dialogue, Chiranjeevi came out of the room to see me out. He talked to his secretary and organised the photographs and finally bade farewell. Yes, the man and the megastar bowled me over with his simplicity and humility.