Hey, we all loved The Dark Knight.
It's a fantastic take on an iconic superhero, brings noir to the world of the Batcave, and features one of the most instantly revered villains in the history of popular cinema.
So yeah, it's a pretty darned great blockbuster. Except the hype now isn't just deafening, it's claustrophobic.
Why you must watch The Dark Knight
Comic book movies used to be all about the fanboys -- those fanatically obsessed collectors of long single-issue comic book runs and those passionate purveyors of why-Jesse-Custer-could-make-Wolverine-weep information, culled out of trivia that even the writers have forgotten.
Now things have changed. Spidey rocked the boat, Iron Man made audiences cheer, and, most recently, The Dark Knight has become a worldwide phenomenon -- a phenomenon involving both fanboys and smitten newbies succumbing to the charm of that big WB logo in the sky, dwarfing any Bat-signal Bob Kane ever drew.
The film is raking in the millions from weekend to weekend, and by the time you read this, is probably the second highest grossing film of all time in the US. And that is something we must applaud. Not just does Christopher Nolan's film deserve to catch up with Titanic, it deserves to trump James Cameron's film -- simply because it's better. Fair enough.
Yet calling it the best film of all time? Please. All our inner Batmen need their dose of Alfred-supplied perspective, because while this is a landmark movie, we're getting far too carried away. Is it the best big-screen movie of the year? Sure. It's a hundredpercent, fultoo dhamaka pikchar with enough masala bells to bring out the caped kid in us and make us whistle. And yes, I'm willing to bet that nothing this spectacularly impressive will hit the big screen scross the rest of 2008.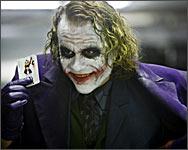 But that, my friends, is as good as it is. Stop voting down The Godfather on iMDb, please -- even the greatest detective himself would call that atrociously stupid.
It's not even -- and I'm not just saying this to get lynched, hear me out -- the best superhero film of all time. A friend called The Dark Knight and its impact on the hitherto formulaic superhero genre akin to the way The Matrix revolutionised action cinema, and I would have to agree. Nolan created a magnificent Joker, tossed his origin story in a vat of acid, and gave us a distorted bit of genius that blew us away. Awe-some.
Personally, I think The Dark Knight can be called The Good, The Bad, The Ugly of the superhero genre: it's definitely not the best of its kind -- or even the very best of director Sergio Leone's fantastic films -- but it is the one that broke the wall down for a non-Western-watching audience, it is the one that mythologised the gunslinger. Most importantly, it is without a doubt the most quoted.
In my utterly geeked out opinion, the championship Best Superhero Film Ever title belt -- subjective as any golden cinematic accolades must be – is shared between two solid, soaring chunks of pure movie magic. One one end stands the first Superman -- call him apple pie as much as you want, but like that first Action Comics issue, the flying Christopher Reeve changed the world -- for providing one of the most iconic visuals in cinematic history, and it's impossible to even imagine another superhero movie ever having that massive an impact.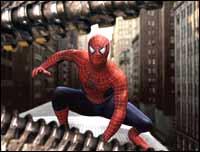 The finest, and the most maturely written superhero film, was the gloriously polished Spider-Man 2. The film might be pooh-poohed by Bat-fans today for dealing with breezier texts than their brooding billionaire, but the difference lies in the fact that Sam Raimi's film answers the questions and addresses the issues troubling its protagonist -- whereas Knight merely brings them up, masks everything in a constant, occasionally wearisome cloak of Duality, and hopes we like ambiguity.
Also, as a comic-book fan, Spidey-2 was a celebration constantly soaked in the spirit of the Stan Lee character, and while Nolan's film created a Batman even better than the comic book -- borrowing cleverly from not just Alan Moore and Frank Miller, but from mainstream icons residing across comicdom's Berlin Wall: Bruce was more Tony Stark than Wayne; Gotham's take on its protector was completely Spideyfied -- let's assess the films as we do actors, and give them points for staying in character.
Having said all that, The Dark Knight is both a mammoth achievement and a complete blast, made for repeat viewings. It's also a mega success that will now force the studios bankrolling superhero movies to look at the darker, harsher, grittier side. And Christopher Nolan totally rocks. But we knew that already, right?
Now, about Heath Ledger. Ledger's Joker is a powerhouse performance, an insanely great character with a constant grinful of the best lines, and yeah -- the general outpouring of critical applause has more or less ensured that he'll get a posthumous Best Supporting Actor nomination at the next Oscars.
[As an aside, I absolutely refuse to compare Ledger's Joker with Jack Nicholson's performance, simply because they were roles written in completely different pitches, for completely different effect. Both were devastatingly effective, and just because dark is in and Tim Burton isn't given to one-liners, it's childish to say that Ledger's work was better than Jack's. They were two fantastic, very varied Jokers -- both good enough to give Batman nightmares.]
Is the Oscar thing a bit much, though? Reader Anshuman Acharya writes in speaking of Peter Finch's posthumous Best Actor win for Sidney Lumet's prescient masterpiece Network, asking whether 'DeNiro and William Holden, in that order, were better contenders that year? I think Holden even commented to the effect that he would have got his Oscar if only Finch hadn't died.'
It's a very good point. Robert De Niro's Travis Bickle in Taxi Driver is a performance of staggering genius, something we get to see every 30 years, and while the battle between Holden -- I completely agree that his was the more difficult role -- and Finch for the same film was a tighter call, the fact that Finch tragically passed away after the film might have given Oscar-voters something to think about.
Ledger's Joker is great, but not quite 'Oscar material' -- in the idealistic, qualitative (fictional?) sense of the term, you understand, as opposed a jury that gives Best Picture to Crash, and Best Actress to Hillary Swank for Million Dollar Baby. Meh.
Anyway, Heath's maniacally grinning, patently un-serious Joker is, in many ways, similar to Johnny Depp's marvellous Captain Jack Sparrow from the Pirates Of The Caribbean movies: an irresistible character made memorable by an odd choice of very quotable vocabulary, a clearly distinguished look, a weird walk and talk, and the erratic mannerisms of a rockstar -- Depp channeled Keith Richards, Ledger did a Sid Vicious.
They are, however, characters that dwarf the actors, despite how completely the actors submerge themselves in them. Sparrow and Joker aren't either of the actors' best work -- Ledger was phenomenal in Brokeback Mountain, while Depp has been magical in Ed Wood, Fear And Loathing In Las Vegas, and a half-dozen astonishing others -- even if they ultimately remain, thanks to the potent love the characters draw, the performances they will be remembered for. [By the way, there is a rumour that Depp might play The Riddler in Nolan's third Batman film, and while that is a thought delicious enough to giggle over, let's wait and watch.]
So will the sheer Joker-love and his own tragic passing win Ledger the Oscar? You know, it might not. I'm still betting on a definite nomination, but a sobering thought: the late great James Dean was posthumously nominated for three Best Actor statuettes; he never won.
As always, feel free to disagree. Bring up your favourite superhero film of all time, try to look beyond the Knight, and write in to me with absolutely anything you want at senterfold@rediffmail.com. That's all for now, go rent the Superman DVD and I'll see you all next week. Cheers.