P Vasu's Tamil film, Kuselan is good, but only in parts. While the climax is especially good, the protagonists are bad. First, we have the honest barber Balakrishnan, who struggles to make ends meet. Pasupathy, otherwise a fine actor, disappoints here. Vedivelu cracks the same jokes that we have heard many times before. His best scenes are when he meets Rajnikanth and Nayanthara.
Livingston plays a loan shark, assisted by Tamil television actors. The script and performances are dull, and requires a lot of editing. Even if some of the characters were deleted, it would have helped the film.
Prabhu is terribly miscast as Rajni's bodyguard. An actor of his calibre should have played Pasupathy's role.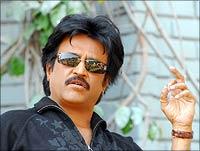 Rajni makes a grand entrance on a flying white horse and then comes the song to commemorate the 75 years of Tamil cinema. Rajni seems to do a repeat of his performance in Anbulla Rajnikant, which also starred Meena.
The camera just loves the beautiful Nayanthara while Meena does very well too. The expression on her face when she meets Rajni is delightful.
The sets do not look as grand as they did in Sivaji. The music looks like a copy from other Rajni movies but the camerawork is excellent.
What I don't understand is that since Rajni plays himself, why does he call himself Ashok Kumar when his name carries so much magic.