When it comes to Bollywood influences, Indians seem to have shed rigid regional biases and duly accepted the heavy doses of Punjabi that make their way into their living rooms with every hit film. Irrespective of regional origin, desis all over the place are claiming to know and learn Punjabi through their television screens.

From Mumbai to Bhatinda, everyone appears to be mastering the dhol vajdas and sanu ik pals usually followed by noteworthy mentions of either Soni or Mahi. Those in South India are, as usual, impervious to such trends sweeping the nation, preferring Prabhu Deva's gyrations to the regular bhangra.
'That's the way, Mahi ve,' sang Shah Rukh Khan in Kal Ho Naa Ho and the film industry happily agreed.
It was most definitely the way -- the quickest and surest one, in fact -- of incorporating a dance number that would soon become popular with the crowds and get a film its share of speedy hype. The dhol and turban-flaunting bhangra dancers were brought out as soon as a wedding sequence was in sight. No sooner had the family -- comprising a Babuji, Bebbe and Parjaiji -- got a whiff of brewing romance, was the 'we know what's going on between the kudi and munda and we're happy about it' song trotted out.


The familiar 'couple dancing around trees' premise we were so accustomed to has been rudely changed to kudi-munda circling a barrel-sized dhol.
When Daler Mehendi sang Tunak tunak, pointing ominous fingers towards the future, little did we know it was a prophecy of how bhangra verses would slowly take over every Bollywood film lyric, swallowing Urdu and the already scarce remnants of Hindi in their wake.


A few years ago, much to my alarm, a Gujarati friend suddenly leaned into the television muttering: "You, me, we, roof, moon, beautiful," snapping her fingers with an enlightened expression on her face.
"I think I have picked up quite a bit of Punjabi!" she announced, satisfied with her performance.
She tried out her newfound linguistic skill on Mrs Ahluwalia, our grumpy Punjabi neighbour. 'Say something in Punjabi, aunty,' she urged, then frowned in dismay, obviously stumped as soon as aunty produced a stream of impatient-sounding heavyweight Punjabi.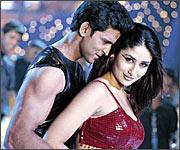 "Who knows, maybe you would've gotten it if she were to sing it in a bhangra tune," I suggested, my sarcasm well hidden. "That's what I thought!" she replied, brightening up, the dig obviously escaping her.
Then in 2002, we unsuspectingly munched on popcorn as Hrithik Roshan and Kareena Kapoor danced to a foot-tapping number in Kabhi Khushi Kabhie Gham. 'You are... you are my Sonia,' cried the happy chorus and we looked on in confusion.
We thought her name was 'Pooh'!
As if it wasn't bad enough being named after a yellow bear, the lead character's name had suddenly, without warning, been changed to Sonia mid-film, we thought bewildered until we were informed by the knowing Punjabis amongst us that Sonia was either an invocation to the Soni of the tragic Soni-Mahiwal story or simply soni kudi.


Then something even more bizarre happened. Gulzar, the one lyricist known for his brilliant Urdu poetry, went back to being Sampooran Singh and jumped on the Punjabi bandwagon. It was too much for my already bhangra-beaten soul.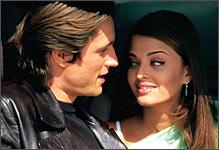 This trend gathered momentum and is now an integral part of commercial Hindi cinema.
Salaam-E-Ishq
should have been renamed
Ishq Nu Sat-Sri-Akal
. Gurinder Chadha's adaptation of Jane Austen's famed novel, resulted in the very Punjabi
Bride & Prejudice
. Not only was this rendition sprinkled with substantial doses of
balle-balle
, it was akin to serving samosas for an order of scones.

While the script of Chak De! India made little allowances for a bhangra number starring hockey players, the title was apparently open for Punjabi infiltration.
Jab We Met, while showcasing an entertaining plot and steering away from over-familiar faces, still managed to pay due homage to the 'Punjabi family of Bollywood.'


This family has recurring characters. We have Amitabh Bachchan, the stately and unusually strict father watching over the khandaan's izzat and all that. Then there's Alok Nath, the doting uncle who never married and now just smiles insipidly making stomachs churn. There's the coy Reema Lagoo, mother of the groom or bride. And how can one forget Anupam Kher, the slightly manic, over-the-top, so-in-love-with-life character, meant to remind all strict Punjabi fathers what they could be like in order to gain some likeability. All in all, a group of extremely talented actors are typecast repeatedly in a bizarre attempt to tell and re-tell this singular love story where all could've gone right if it weren't for that one overbearing father.


I wonder at times, in all sincerity, how recent films must impact, say, a young Marathi, Bihari, Gujarati or Bengali dude looking for tips to base his own budding love story on.
As a young girl, I remember penning a script for a film where this young lad from a middle-class Marathi family walks away into the sunset disappointed by a film he has just watched, convinced he has to be a Raichand, Kapoor or Ahuja in order to even think of falling in love. I know, it sounds a bit extreme.



Then again, I was recovering from Hum Aapke Hai Kaun..!