Dear Mr Amitabh Bachchan,
My neighbour said to me the other day that she does not like your movies very much because you always play Amitabh Bachchan essaying a role, that you reduce every role to a caricature of how Amitabh Bachchan would play it. It was all very complicated, and I don't think I would have understood a whit of her excoriating commentary had we not been walking out from a screening of an execrable film called Nishabd.
It's hard to say who was worse in that film -- the twit of a girl you fall in love with (Why? She's so irritating, you want to slap her) or your character as an older man in love with a girl your daughter's age.
Later, I read various people involved with the making of the film saying it had failed at the box office because India wasn't mature enough to accept a Lolita-like tale of love. What they should have said is that it was a disaster because the cast seemed to have no clue how to act.
We, in the print media, run a proofing/editing test when we interview newbies for their first jobs as reporters/sub-editors. Perhaps Nishabd could be used by wannabe actors/directors as a lesson in how not to act/make a film. Still, I said to my friend, everybody is entitled to make a mistake now and then, and maybe Nishabd was yours. Really, retorted my friend, had I forgotten the films you had acted in during the 1980s and perhaps the early 1990s. Actually, I wish I could forget them -- those Mards and Coolies and countless others where you looked in your 40s or 50s but acted like you were in college and, sadly, danced with those eunuch-like steps that you had perfected, repeating yourself in film after film till neither you (surely) nor we could tell one apart from the other.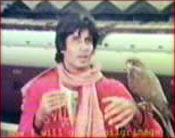 In all fairness, let me make a disclosure here: I have never been an Amitabh Bachchan fan. There, I've said it, and I haven't been struck by lightning. Yet. True, you had your moments in Sholay and Deewar, and a very nice comic turn in Chupke Chupke, Namak Halal and Amar Akbar Anthony. And, okay, that baritone is to die for.
But in a career spanning three and a half decades, what more do you have to show on your CV? Black? Overacted nonsense, says my friend, though I concede that some may debate the point. My own view? Er, um. Kaun Banega Crorepati? Now there's a benchmark, and for many of us, it marked the transition to what we thought would be a more mature Amitabh Bachchan. You packed in audiences who sat glued to their TVs and quizzing became a national pastime.
Karan Johar turned you into a clotheshorse and you moved into iconic status once again. This was the time to retire gracefully, at a resurrection in your career that superceded your middle age status by far. Alas, you weren't ready to write your requiems yet. You went on to destroy yourself all over again in an echo of the 1980s. Only you weren't getting any younger, and it's difficult to forgive a venerable figure in his dotage.
Okay, you pulled off Sexy Sam in Kabhi Alvida Naa Kehna, but my god, what were you doing dancing in fancy dress surrounded by women in equally strange costumes on railway platforms in Jhoom Barabar Jhoom?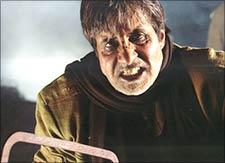 And Ram Gopal Varma Ki Aag (which, after all those reviews and editorials, I'd have to be mad to want to see): it must be asked with due respect to your status and cult following -- whatever made you do it? That the film seems to have succeeded in desecrating several iconic performances in one sweep was bad enough. But how could you allow the memory of your Jai (to Dharmendra's Veeru, in one of Bollywood's most abiding screen friendships) be destroyed by some newcomer whose name no one seems able to remember?
Actually, why am I surprised? Haven't you over-exposed yourself, dancing at weddings and parties? You conducted yourself with great dignity at Abhishek and Aishwarya's nuptials, so it must be asked why you take on the role of dancing (and dancing attendance) at your friends', who seem to be able to rent-a-Bachchan on whimsy?
Even that would be all right if, like ageing mentors in families, you would do a jhatka or matka as a part of the celebrations -- favourite aunts do that too! -- but as the star attraction? Mr Bachchan, your age, your age!
And the ads -- you seem incapable, say my media friends, of saying no to any offer to "act". You say you need the money -- I know, I know, you almost went bankrupt -- but since everyone in the family have fairly stable careers, and you're not doing so badly yourself, surely you don't need to mouth such inanities as Binani Cement, and not Amitabh Bachchan, is the real Big B!
Or is it that you've overlooked that you're no longer young, or even middle-aged, that you're a grandfather, that you need to slow down, and that you absolutely must stop being part of every depressing, tacky production in tinsel town.
You have given Bollywood some excellent moments, some parts in which you have excelled, but as you caricature them now in your old age, it must be said that the sum of those parts does not make for an appealing Amitabh Bachchan. It's time to remove the greasepaint, hang up the boots and retire, Mr Bachchan. And not just for my sake, but for those millions who were once your fans.
Yours etc
K S Shekhawat
Powdered by