Before Michael Winterbottom's
A Mighty Heart
opened at the
Cannes Film Festival
, Paramount Vantage delivered a screener of the film to Asra Nomani's home in Morgantown, West Virginia. She watched the film with her parents and was shocked with the final product.
"I thought ironically for a movie called A Mighty Heart, it lacked a heart," says Nomani, a former Wall Street Journal correspondent who became a close friend of Danny Pearl when the two worked at the newspaper's Washington DC bureau. "It didn't have the pulse of any of the people it depicted. What made me saddest was I didn't even feel for Danny."
And then Nomani watched on the Internet all the hoopla at Cannes -- the star-studded affair with images of Angelina Jolie (who plays Pearl's wife Mariane in the film), producer Brad Pitt and its other cast members.
"I felt dirty about it," Nomani says. "I know we are supposed to take Hollywood with a grain of salt, but as a society we can't just give it a pass. A man died -- Danny died for the making of this movie. He became a sacrificial lamb, not just for the terrorists, but also for our super entertainment industry."
January 2002, Pearl -- at that time head of the Journal's South Asia bureau in Mumbai -- and Mariane were guests at Nomani's home in Karachi, when he left for a risky assignment -- an investigation into the 'shoe bomber' Richard Reid's connection with Islamic militant organisations in Pakistan. Pearl was kidnapped by his contacts and later beheaded. A Mighty Heart, based on Mariane's book by the same name, depicts the efforts to find Pearl. British Indian actress Archie Panjabi (Bend it Like Beckham) plays Nomani in the film.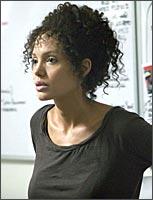 When Nomani was invited to the film's New York premiere, she decided not to attend. Instead, she wrote an e-mail to one of the film's producers. Given the nature of the media business, it was no surprise that a part of Nomani's e-mail mysteriously appeared on Gawker.com. 'I am not going to be attending the premiere because, upon reflection, I just don't believe in the movie and the mythology of its marketting and PR campaign,' Nomani wrote. 'I know too much to suspend reality.'
In the e-mail, and later in this interview, Nomani pointed out that she had helped the film's production company hoping, "something good would come out if it."
Later, the writer and activist plans to take up the position of professor in the Practice of Journalism at Georgetown University, teaching an investigative reporting course on what actually happened to Pearl after he was kidnapped in Karachi.
Nomani spent countless hours giving advice on the film's script. She also gave the producers her entire source list in Karachi and a 200-page chronology of what happened from the time Pearl was first reported missing. Panjabi spent three days with Nomani and her family in Morgantown. Later, Nomani also visited the film's shoot in Mumbai where, among others, she met Irrfan Khan, who plays the role of Captain -- the Pakistani intelligence officer who was involved in the investigation.
She had her suspicions about the film when she first read the script written by John Orloff. A lot of characters were caricatured and Nomani's friendship with Pearl was never explained. In fact, she felt she appeared to be no less than a maid servant in the script. So she worked to enhance her character in the film, including adding a dialogue at a dinner scene where Panjabi states that she works for the Journal.
Nomani's first reaction to the film was that there was more depth in her character. "After having gone through the script, I was expecting to be the servant girl," she says. "That was my worry. So I got promoted to office assistant. My bar was so low that I was initially relieved. But then, the details of the movie sank in.
"I have never felt racism, in 20 years in corporate America -- 15 years at The Wall Street Journal, where our careers were defined by meritocracy," she adds. "But I was stunned. The first instance of racism I felt in American society is through Hollywood. I find it really insulting. They had the opportunity of showing me as a strong Muslim woman. Instead, they dumbed me down and made me a very confusing character. The reality is Danny and my friendship contradicts these notions. It showed the success story of immigrants in America."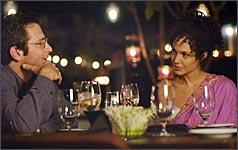 Other characters came across as equally ridiculous, Nomani explains. "The character of the FBI agent is portrayed as a butch woman," she says. "To me as a minority, that was equally offensive. Steve LeVine (Central Asia correspondent of the Journal) becomes a cursing Jewish reporter. He never swears in real life; it was very stereotypical. There is John Bussey (foreign editor of the Journal), always pushing up his glasses. He is an intelligent, articulate human being who has risen to the highest ranks at the Journal. He isn't some neurotic grandmother."
In the film's flashback sequences, Pearl is shown visiting a few people in Karachi who advise him to be careful during his meeting with Mubarak Ali Gilani, a Pakistani cleric with connections to that country's militant groups. Nomani feels the message from the film could be that Pearl was reckless and irresponsible.
"But it can said that Danny was so courageous that he persevered despite the warning," she says. "As journalists, we are always rejecting State Department warnings. There is always a travel advisory to every country we want to enter and that is why we want to go there."
For the past few years, Nomani has been leading a struggle to allow Muslim women to lead the prayers in mosques. She has often run into trouble with the male members and leaders of mosques. She and her family have faced death threats and all of this makes her feel outraged. But she says she has never felt as indignant in her life as when she saw A Mighty Heart.
"Because there is such a holier-than-thou marketting messaging going on, when substantively the movie represents the worst in our society," she says. "If we are going to give James Frey [defamed author of A Million Little Pieces] a hard time, we have to give Hollywood a hard time when they pretend their creations are not fiction. Call it what it is. Tell us this is a fictionalised story of reality."
Nomani realises that in speaking out against A Mighty Heart, she is not going to win many friends. But she knows Pearl would be proud of her. "I know I will be able to look Danny in the eye, whenever I see him, because I am standing up for the principles I believe in," she says.