I spent a good part of the last seven days either travelling, or preoccupied with a few domestic issues -- hence, not much time to spare for watching movies, following links, responding to your emails, and such, sorry.
In the midst of much my significant other, in a particularly sadistic mood, got me to waste the better part of three hours watching a turkey called Darling, helmed by Ram Gopal Varma. The core idea seems to have been borrowed from Blithe Spirit, the 1945 film helmed by David Lean and starring Rex Harrison as the spirit-pecked husband, Kay Hammond and Constance Cummings as his wives, in seriatim, and Margaret Rutherford in a brilliant turn as Mme Arcati, the medium who communicates with those in the afterlife.
Hilarious film, as you would expect of something based on a Noel Coward play, and Hammond's performance as dead wife number one is one of the highlights -- not to mention a model Esha Deol could have based her own performance, in the RGV flick, on.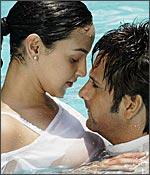 Varma takes the idea and turns it into a thriller/horror film, with largely forgettable results. There's the random 'wow' moment, but for the most part the punches are telegraphed far too much in advance, a largely cacophonous background score does nothing to enhance the movie, and someone needs to tell the cinematographer that while an unsteady cam can be used to good effect (check out The Bourne Ultimatum as the latest example), there is a fine line between that and a camera seemingly held by someone in an advanced state of inebriation.
Said significant other, a day later, attempted to get me to watch RGV's Aag; I managed to keep from fidgeting through the early scenes, but after about five minutes of Nisha Kothari, I gave up altogether. Now I understand why the film triggered a flood of critical venom, and sank without a trace at the box office.
And speaking of sinking -- last year, Bollywood was in a mood of collective euphoria, sparked by a rare crop of successes. At various awards functions through the year, notables such as Shah Rukh Khan, Karan Johar, Sanjay Leela Bhansali, Vidhu Vinod Chopra and their ilk pointed out that the slew of hits was heartening; that it was noteworthy that the movies that worked were not all one of a type, but spanned the spectrum from action through comedy and romance and every shade in between.
The collective mood was, Bollywood has turned the corner, at long last; if this euphoric assessment ignored the fact that a dozen huge hits had shouldered the burden of a couple of hundred flops, we'll let that lie for now.
Focus instead on this: If Bollywood indeed turned a corner last year, it appears to be confronted with a cul de sac in 2007 -- there's a little over two months left in the year, and how many authentic, bust-the-block hits can you count?
What went wrong? Why the stasis, the seeming stoppage of Bollywood's blood flow?
The question occurred to me while reading, during a flight out of Mumbai this weekend, a speech by Professor Ray Charney of the Department of Film and Television at Boston University.
Charney, recognised as one of the leading experts on American indie films, speaks to high school students about what he thinks are the problems affecting mainstream Hollywood; while the case is not exactly on all fours with what seems to ail Bollywood, there are enough similarities to make this link worth your while.
[Note: Those of you who pepper message boards with stuff like "What is the POINT?" and "I could not read more than 10 words…" are advised to give this link a miss; it will put on your attention span a strain it is clearly not geared to withstand.]
You will, on reading this, probably have thoughts on the subject -- mail me.
On my way out the door, a video, on related lines, for your consideration: this one is a talk by Jeff Skoll, the eBay billionaire who went on to found indie production company Participant Productions, which in its brief existence has already underwritten movies like Syriana, North Country and the seminal Inconvenient Truth. His theme is 'Making movies that matter' -- enjoy.