Among the many mails I've been getting was one from Jahan Bakshi who, I learnt, writes on movies on the Passion for Cinema blog.
After reading his reviews of Laaga Chunari Mein Daag and Bhool Bulaiyaa,  I spent some time browsing the rest of the site, and stumbled on this interesting post by scriptwriter-director Suparn Varma.
Suparn's argument is simple: the younger filmmakers who are busy making what they hope is cutting edge cinema might view the offerings of the Karan Johars of this world with contempt, but surely both types of filmmakers have the right, and the space, to co-exist without acrimony? Surely both types of filmmakers -- the Anurag Kashyaps, say, on the one hand and the Karan Johars on the other -- are part of the same ecosystem, dependent on each other for their mutual survival?
This is the crux of Suparn's argument:
"All through the last several months, be it on comments or inside the PFC club, a recurrent bitching session goes on about Yash Raj, Karan Johar, SRK, Aamir, Salman, Bhansali, or relatively new directors like Farah Khan, Sajid Khan or the funny man David Dhawan or any 'popular commercial' filmmaker or actor of their ilk.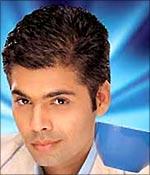 Well my friends, I have news for you and I say this in capital letters: THE FILM INDUSTRY SURVIVES AND EXISTS ON THE NAMES ABOVE AND OTHERS LIKE THEM!
And the reason films like Black Friday, Johnny Gaddaar, MSFU, Makdee, Maqbool, Quick Gun Murugun, Aisa Bhi Hota Hai Part 2, Chhal, Mithiya, Hazaaron Khwaishein Aisi, or any niche cinema for that matter can be made is because the very names that are maligned everyday, by us -- the so-called keepers of the conscience of intelligent cinema -- keep making the films that they make. Their profits create a buffer in the market to absorb niche films which don't work at the box office.
It is commercial cinema which creates enough profit for a theater/multiplex/distributor/exhibitor/ and finally the producer to survive."
Point well taken, I thought -- will check mail in a day or two to see if you agree, or disagree, and why.
On a related note, Karan Johar seems to be the favourite whipping boy of the new brigade of filmmakers. Personally, I don't much care for the movies he has made thus far. My reasons are many: the length, for instance. Someone once said a movie should not be longer than the ability of your bowels to hold out, and by that test, Johar's movies fail miserably.
And then there is the emphasis on prettifying everything, even if it militates against the spirit of the story and the character -- a fetish that is often carried to ridiculous extremes. When a Karan Johar heroine (mind, I don't mean to suggest he is the only guilty party in this respect) is woken out of a deep sleep, for instance, she is apt to emerge from the bedclothes clad in the sort of sari that would not be out of place on Oscar night; her coiffure will be perfect, the mascara and eye-shadow just so...
I rebel at this. No woman wants to be seen immediately after waking -- the ravages of sleep turn us into something out of a horror film, and it takes a good half hour to repair the damage and make ourselves relatively presentable.
A small matter perhaps, but it is precisely this sort of thing that gives me the yips about a Johar film -- to me, they smack of adolescent imaginings, of fantasy carried to the realm of the absurd.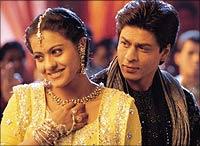 'What an idiot', used to I mentally tell myself, 'surely you could expect the guy to show some common sense, some basic appreciation of the real world, of real people?'
I still think his movies are largely insufferable -- but I no longer think of him as an overgrown juvenile. And the reason for the change of heart is an interview of his that I read on Tehelka.
I've read interviews of Karan Johar's elsewhere -- mostly PR exercises where the interviewer asks the routine questions, and get pat answers that do not advance our understanding of the filmmaker by one iota. This particular interview, however, is an eye-opener. Check out the extended extract below:
What explains your obsession with perfect colours, perfect figures, this sort of saturated opulence in your films? Is it revenge for being fat?


I think it comes from my need for beauty and good looks, which all through my childhood I didn't have. The good-looking clothes I couldn't fit into, everything I always wanted to be and couldn't be -- it's all of that. Also, I suppose my need for opulence comes from the fact that I grew up in a 1,000 square feet house. So it's all a very aspirational lifestyle that I'm portraying. But I've also always loved glamour. I love Yash Chopra's movies -- Silsila, Kabhi Kabhi. I saw his cinema first, then went back to Bimal Roy, Guru Dutt, Raj Kapoor.
People ask me why there's no poverty in my films -- but I've lived a very, very sheltered life. The only trauma I had to deal with was being fat, so my films were about the things I knew about. My first film had to be about heartbreak and first love. I was such a good friend to so many, that's what I'd always hear about. Then I made Kabhi Khushi Kabhie Gham -- that was just about me being given this big toy called cinema and I wanted to show off with it. I couldn't believe I had actually become a filmmaker. All through your life you never think you'll do something and then it happens -- your first film is applauded by the world -- and then you just want to show off. K3G is all about me trying to show off, nothing else. It's me saying, look, I've put up this big set; look, I've put up this star cast; look, they're wearing beautiful clothes, look, look, look. Today I've become a school of cinema, and whether you like it or hate it, you club it like a Karan Johar film.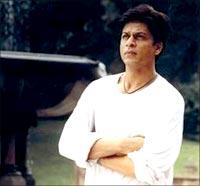 But if you're so self aware, why would you not move away into doing something more?


I believe Kabhi Alvida Naa Kehna was my attempt to break my own mould. But what I did wrong was blend in some of my old need for opulence and scale and a star cast. I should have stuck to my initial thought, my first instinct, which was to make it an intimate drama of two couples. Where I went wrong was that I made it 30 minutes too long, made it over opulent. There were such big stars, I felt I had to justify their presence in the film. But I should have just stuck to my new thought process.

What was that new thought process?
To make an intimate film about four people -- just shoot it, make it very stark, more about the minds. I was there 60 percent but I still borrowed 40 percent from my previous school of cinema. But I've realised my mistake. Whatever I'm writing right now, I'm coming at with a totally new head. I've always understood my failings. I always say I'm an incomplete filmmaker; I cannot make all kinds of films. I don't know better.
In fact, I've made mistakes in all my films -- Kuch Kuch Hota Hai is a raw, innocent work, I ignore that because it's my first work. Kabhi Khushi Kabhie Gham is calculated. Yes, there are emotions from my soul in it, but there are also large calculations, and some emotional manipulation. The last 20 minutes of Kal Ho Naa Ho is not something I'm proud of, but I did it to play to the gallery. My initial thought was to end it more subtly with Shah Rukh just walking away. There was no death, I didn't want to juice the emotion which is what I ended up doing. So I've never made a film that I can proudly say is my film, that I can proudly tell people, did you see Lagaan, I made it. Or, did you see Rang De Basanti, I made it. I haven't made that film yet, but I will.
The interview contains much more that is insightful, revelatory -- as a window into the world of one of the more influential filmmakers of today, it is exemplary.
Link of the Week: Courtesy this blog post (the story originally appeared in India Abroad, Rediff.com's sister concern), I discovered the Rajshri broadband site. There's lots of good stuff on there and the key word is 'free'. Check it out.
PostScript: I am grateful as always for your mails. One reader, in fact, sent me an Excel sheet of movies he has seen and owns, and movies he hopes to see and own; I've been going through the list with total fascination.
Keep them coming; also your recommendations. If you blog about movies anywhere, send me the link. If you've seen a movie lately that you really liked, send me a review. And if you have general thoughts about cinema, send me those, too -- I am hoping to make the next installment of this column a compilation of your emails. Thanks much, see you same time next week.