The puranas are packed with parables, little morality plays that purport to teach you important life lessons.
I am not too sure about the provenance of this one, but the story goes that a king was doing his shtick one day when, from his chariot, he noticed an extraordinarily pretty girl seated under a peepul tree near a temple, making garlands for the faithful.
The enamored monarch immediately swept her off to his castle, married her, installed her as his queen and gave her everything her heart desired.
Flash forward a couple of years, to the day the couple emerged from the castle for a drive through their realm. As luck would have it, the chariot took the road leading to the temple, and when they came to the peepul tree, the queen clapped her hands in girlish glee -- like you know, how we females tend to do in our more idiotic moments -- and went 'Ooo, look, such pretty, unusual leaves! What is that tree and please, can we have one for our castle courtyard?'
The king, so the story goes, promptly stripped her of her regal dignity, demoted her to her earlier flower-girl status, and left her under the tree that had sheltered her for most of her life.
Heavy-duty stuff that, and not perhaps directly applicable here -- but what on earth is with this business of Bollywood girls pretending to be cinematic virgins until they were unearthed, like so many rare diamonds, from the common clay?
Deepika Padukone, to take the latest instance, appeared on Nach Baliye and Star Voice of India on successive days over the weekend, and on both platforms, the act was the same: 'Oh it is such an honor to make my debut opposite Shah Rukh Khan; oh I am so grateful to Farah Khan for giving me this break; oh I am so excited by my debut…'
Don't miss: Showcasing Om Shanti Om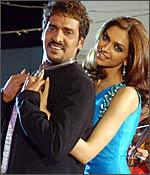 She was back again on MTV yesterday evening on a show hosted by Cyrus Broacha -- and we got more virginal simpering that was getting increasingly un-funny. It is no secret that Padukone debuted on the Kannada marquee under director Indrajith Lankesh, opposite Upendra, in the movie Aiswarya -- the story of a misogynist adman and a pretty new recruit who get thrown together on a work trip to Europe.
It was a fairly decent film -- far better in fact than some other high profile debuts, so why did Padukone find it necessary to hide her initiation under a bushel of dimples and simpers? 'I've done a Kannada film opposite Upendra, and I am thrilled that after just one film, I was thought good enough to star, in such an interesting role, opposite Shah Rukh under such a huge banner' would surely have been more honest?
Is starring in a South Indian film such a negative on your CV that you have to hide it at all costs, sort of like 'forgetting' to tell my new-minted groom about the time I made out in a deserted classroom with the college stud?
It is not even as if she is the only one. Aishwarya Rai broke her cinematic cherry on the sets of Iruvar, opposite Mohanlal and under Mani Rathnam's direction. Sushmita Sen, Ash's batch mate in the beauty queen stakes, made her bow opposite Nagarjuna in Ratchagan, the film helmed by Pravinkanth that 'borrowed' from the Harrison Ford-starrer Fugitive. Priyanka Chopra, yet another global beauty, not only faced the cameras for the first time in the KS Ravichandran-directed film Tamizhan opposite Vijay, but, if memory serves, even sang a song for that film under the baton of music director Imaan.
Preity Zinta's bow was the bilingual Mani Rathnam film Dil Se/Uyire; Isha Koppikar's was opposite Prashanth, under director Ahathiyan, in Kadhal Kavithai; and, gasp, even Mandira Bedi debuted with a small appearance and a song in the Tamil movie Manmadhan. Oh, and I was forgetting Reema Sen, who starred in the Telugu film Chitram, opposite Uday Kiran, and then in Minnale, opposite Madhavan, before Bollywood got interested.
As far as I can see, their South connection didn't do their Bollywood careers any harm; in some cases, it actually propelled them onto the marquee earlier than they would otherwise have made it. And yet each new hopeful will get all coy and talk about her "debut", with all the credibility of... no, never mind, I'll leave that particular comparison unvoiced.
I had in this column intended to introduce you to a young film-maker I discovered in my mailbox (the single biggest kick out of doing this column is the mails I have been getting from intelligent, erudite fans of cinema – my thanks, and please keep the mails coming; the address is mailto.bollywoods@rediffmail.com).
I'll save that, and a couple of other things, for my next column; right now, I'm too excited to continue. For two days now, I've been working on Raja Sen, trying to get him to take me along for the Saawariya preview. Just this morning I finally landed that date, so I've got to go get all primped up for it, tee-hee.
Don't miss: Showcasing Saawariya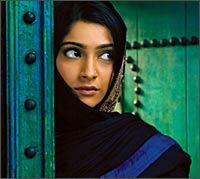 I'm not sure it is going to be unalloyed joy, though. If you remember, I started my columns (my debut!) with this peek into the subject matter of Sanjay Leela Bhansali's film. Earlier today, I was catching up with the weekend papers and, in Mumbai Mirror of Sunday November 4, I caught this interview with Bhansali.
Discussing the creative spark behind his latest movie, he says: "Saawariya is about the anguish I felt when I saw my grandmother spend her whole life waiting on the balcony for my father to return home till 4 am, day after day."
Duh! It is not about young romance? It is about an old lady waiting for her son to come home from work, or whatever it was that kept him out till 4 am?
And to think I wangled a date with Raja for this one!
Anyway, it's done now -- tell you all about the movie, Friday morning. Meanwhile, you guys be good; I'll be good too, or at least, careful.
Quote of the week: Ang Lee struck gold at the Venice Film Festival this year with Se, Jie (Lust, Caution), an espionage thriller set in the Shanghai of World War II vintage. One of the talking points at the festival, apparently, was the sexual element in the film; by all published accounts, the encounters between Tony Leung and Wei Tang are so intense, so violent that the buzz was none of it was simulated, that the two lead actors actually played the part to the, um, hilt.
Cue a media conference after the film, and reportedly, one journalist ventured to put the question to the director. It is not the sort of thing you can comfortably ask straight out, so the reporter apparently hemmed a bit and hawed a bit and after considerable circumlocution, finally popped the question: "... so, you know, there is considerable speculation and much confusion over whether Leung and Tang actually did 'it', in a manner of speaking..."
Lee's response is a modern classic of ambiguity, and of the wit that lies in brevity: "It is actually very clear to me. Next question?"