Blah, another singer won.
Don't get me wrong, Jordin Sparks is a massively talented 17 year old. A tremendous singer with an overwhelming voice, this kid's got arguably the finest set of pipes in American Idol history.
It's the kind of statement that will raise hackles, Idol vocal stars -- from Grammy-winner Carrie Underwood to Oscar-winner Jennifer Hudson to 2007 third place contestant Melinda Doolittle -- all justifiably pretty impressive behind the microphone.
Also, forgettable.
Blake Lewis, on the other hand, is an original. The 25-year old beatboxer is a bonafide star, a unique talent with massive entertainment value and a great stage presence. And -- this needs to be emphasised more and more -- a fantastic fresh new sound, and one that's wholly him.
Idol has never been about singing alone, and Blake has an edgy sound destined for popstardom. He's jammed superbly with Doug E Fresh and Sir Mix-A-Lot, and boy can he handle his gr-grrr-r-groove. That vocal-scratching is right on the money, and he resurrected Bon Jovi for the current generation. Really, that's quite a feat.
Then again, maybe losing Idol is good -- a point of view Dreamgirls star Hudson would surely agree with.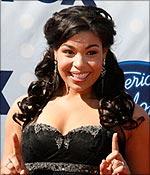 The Simon Cowell led top-rated show is increasingly spiteful and while the juggernaut grows much bigger every year, the show is increasingly ludicrous. The finale, which had a bunch of contestants taking turns to massacre The Beatles' catalogue, was quite possibly the worst last episode ever.
Evidence? Amid a braindead montage of people who changed the world -- Lincoln, Kennedy, Gandhi -- Idol host Ryan Seacrest announced Sanjaya Malakar, who came in, killed a Clash classic while preening next to Joe Perry from Aerosmith, a sell-out cameo from a rock guitarist so sleepy he didn't seem to give a darn. Malakar seems to have embraced his inability to sing, and now he doesn't even pretend -- the vocals were agonisingly bad. And the nightmare is just beginning: he's going to coast on that bad-singer tag proudly for a while now.
Also, there was no surprise. The night before, Cowell said Jordin had wiped the floor with Blake, minutes before the envelope was opened, Randy backed Jordin, and the big announcement didn't really do much at all.
Well done Jordin, but we're waiting for the Blake CD.
Photographs: Getty Images