Last week, I saw Mira Nair's The Namesake -- for the third time!
I first saw the film over Labor Day weekend at its world premiere at the Telluride Film Festival. Then, in November 2006, it opened the Indo-American Arts Council's film festival in New York City.
As a journalist and movie buff, I often watch films I like a couple of times. But this time, it is different.  Three viewings later, I am still haunted by The Namesake -- the quiet, sometimes hilarious and at other moments deeply tragic way in which Nair captures the essence of the Indian-American immigrant experience. I have laughed at the film's many funny sequences, the awkward moments in immigrants' lives that Nair narrates so wonderfully. And I find tears in my eyes when sad things happen to her characters.
I am not a Bengali, like the characters in The Namesake. I was not born in this country, like the protagonist Gogol (played by Kal Penn). And yet, as an Indian-American and an immigrant who has lived in America for over two decades, I feel that Nair's film speaks to me and tells my story. I am amazed at its honesty and truthfulness.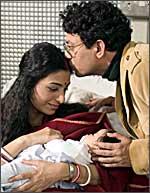 Nair's film is a salute to its source -- Jhumpa Lahiri's 2003 novel The Namesake, a brilliant follow-up to her Pulitzer Prize-winning collection of short stories, Interpreter of Maladies. But the film also stands on its own -- a reflection of the comfort the 49-year old filmmaker feels with herself, a creative person, a wife and mother.
Sixteen years ago, Nair directed her second feature, Mississippi Masala, a playful, funny, romantic, but also fiery and angry tale of race and Indian-American immigration set in America's south. But she had to go through a long period of filmmaking -- with some successes (Salaam Bombay, Monsoon Wedding, Hysterical Blindness) and an equal number of failures (Kamasutra: A Tale of Love, The Perez Family and, to some purists, Vanity Fair) -- before she could make a full richly narrated tale of immigrants finding themselves and making their home in an alien land.
In an interview last fall, Nair told me that she read Lahiri's book soon after the death of her mother-in-law — the result of a botched surgery at a Manhattan hospital. "With Ammi's death, it was the first time I entered in that zone of really, palpably feeling that we are not immortal, that everyone must go," Nair said, whose mother and father are still alive. "It was the first time for me to directly experience the finality of loss." When she read The Namesake, she felt as if Lahiri was speaking to her. "It was as if I had been understood," she added. "I had found a person, Jhumpa, who had put into words everything I had experienced and was experiencing."
In the press notes of The Namesake, Nair says, 'I hoped to capture on film the moment we unexpectedly become adult, the strangeness of burying a parent in a foreign land that has now become home.' Nair's The Namesake (based on a screenplay by her long-time collaborator and friend Sooni Taraporevala) is a tale of dislocated first generation Indians and their US-born children who learn to live between two cultures --- the liberal, western culture that they see in schools, colleges, the workplace and with friends, and the more conservative Indian home environment that their parents continue to maintain.
Nair's Gogol has an accidental pet name given by his father, but it becomes a huge burden that haunts him as he tries to run from his Indian heritage and his parents' little Bengali life set in the suburbs of New York. He attempts to reinvent himself with a new name and a new self, but the results are at best mixed.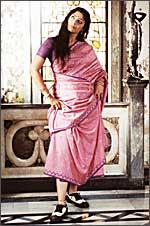 Like other Indian immigrants who arrived in the US in the 1960s and 1970s, Gogol's parents Ashoke (Irrfan Khan) and Ashima (Tabu) slowly and reluctantly learn to accept their adult son's relationships with American women. They take pride in his successes, although they can never understand why their son lives in tiny apartments in Manhattan, never answers his home phone, and does not look them up or even call them. They feel pain when they see what appears to them as American common sense that defines Gogol's thinking process.
This is not the first time a filmmaker has attempted to portray the Indian American immigrant experience.  Just last year, Karan Johar directed his over-the-top melodrama about rich and sad Indians in New York who cheat on their spouses, Kabhi Alvida Naa Kehna. And desis in the US (including this writer) flocked to theaters, making the film a big success, at least in terms of Bollywood films.
But Johar's KANK was full of cliches, with no understanding of how Indian-Americans actually live in America. It was false from beginning to end -- a lot of hard work, loads of money and Bollywood star power, with no element of success.
Nair's The Namesake is a different animal. It is our reality and we should support the film. Elements of the good, the bad and the sad losses Gogol and his family experience should resonate with every Indian-American immigrant. The Namesake should make us proud, and give us comfort. Finally, someone has understood our lives.