Author J K Rowling admits that she felt 'terrible' for the first two days after completing the seventh and final Harry Potter book, Harry Potter And The Deathly Hallows. After that, it all got a bit easier.
Rowling finished writing the book on January 11 this year, and announced it to the world by scrawling it on a bust in her hotel room at the Balmoral Hotel in Edinburgh on February 1.
And now that the book -- that has captured the world for a decade -- has been released, Rowling opens up about her emotions.
Also Read: The Magic of Harry Potter
'The first two days were terrible. I was incredibly low,' People magazine quoted her, telling Meredith Vieira for a series of interviews to air on NBC's Today show later this week.
'I didn't cry as I was writing. But when I finished writing, I had enormous explosion of emotion, and I cried and cried and cried,' she says.
Rowling also revealed that the Harry Potter series are extremely 'wrapped up' with events that were going on in her life over that period of time.
'I think what is probably hard for people to imagine is how wrapped up the 17 years' work is with what was going on in my life at the time. So it all merges into one,' she says. 'I was mourning the loss of this world that I had written for so long and loved so much. I was also mourning the retreat it had been from ordinary life, which it has been. And it forced me to look back at 17 years of my life and remember things. And it was very linked to my mother dying. This big long passage from my life is now rounded off.'
And there certainly have been a lot of events in Rowling's life in those 17 years. 'I went through the birth of three children. I went through two serious bereavements. Breakup of a marriage. And then lots of happy memories, you know? But, you know, it threw me back into all that,' she says.
Her blues lasted for exactly a week, after which she says, 'I woke up on kind of Day Eight and felt actually quite light -- light-hearted and thought, I can write whatever I like. And the pressure's off. And it's not as though Harry's gone-gone from my life, because he'll always be in my life.'
The final Harry Potter book was released on July 21, and soon became the fastest selling book in history.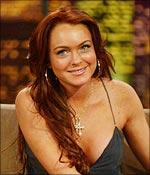 Lohan arrested for drunk driving, again!
Actress Lindsay Lohan was arrested on July 24 at Santa Monica for alleged drink driving and possession of cocaine, just days after she checked out of rehab.
However, Lohan, who is already facing a DUI (driving under the influence) charge in Beverly Hills, is out of custody and is receiving medical attention.
The Mean Girls star has also been charged for driving on a suspended license, reports the BBC.
Santa Monica police spokesman Lt Alex Padilla said that a small amount of cocaine has been recovered form the actress.
Lohan's attorney Blair Berk said that she had a 'relapse', but insisted that the star was 'safe', and receiving treatment.
'Throughout this period, I have received timely and accurate reports from the testing companies. Unfortunately, late [Monday] I was informed that Lindsay had relapsed. The [alcohol-monitoring] bracelet has now been removed. She is safe, out of custody and presently receiving medical care,' Berk said.
Lohan's mother Dina Lohan said that the family was doing everything to help the actress, and insisted that she wouldn't give up on her daughter.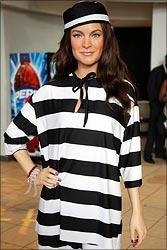 'We are doing everything in our power in support of Lindsay and I won't give up -- this is my daughter and we love her,' she told the Insider.
The 21-year-old was arrested in the end of May on suspicion of DUI and following her arrest, she checked into rehab for the second time. In the middle of this month, Lohan completed treatment at the Promises rehab in Malibu. The starlet wore alcohol tags for monitoring alcohol consumption levels.
Meanwhile, the incident has landed her in Madame Tussauds' books for the next celeb to be immortalised in wax. The 21-year-old's wax statue donning prison stripes will reportedly be placed in the famous museum in New York, TMZ reports.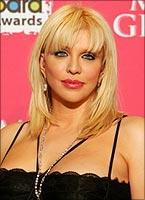 Courtney Love wants to fix her 'wonky' mouth
American rocker Courtney Love is considering going under the knife once again to patch up her crooked mouth.
The former Hole singer has revealed that she is planning to visit her trusted surgeon in Paris to refurbish herself a little.
'My mouth still looks wonky, I think I gotta go back to Paris to the doctor. He's not a cosmetic surgeon he just fixes bad surgery and also cleft palates and serious s**t,' Contactmusic quoted her, as stated by a new post on her website.
'It's not really vanity, he's conservative,' she added.
Meanwhile, rumours are abuzz that the rock singer has found love in actor Noel Fielding.
The widow of Nirvana frontman Kurt Cobain recently shacked up with the Mighty Boosh comedian after spending her 43rd birthday on July 9, hinting that they were an item.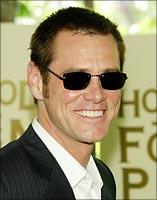 Jim Carrey says yes for Yes Man
Jim Carrey is set to star in upcoming Warner Bros movie, Yes Man. The film is based on comedian Danny Wallace's 2005 novel by the same name.
The 45-year-old actor will play the lead role as a man who spent half a year 'saying yes where one would have said no', to make his life more interesting and positive.
The film script, which was written by Fun With Dick And Jane co-writer Nicholas Stoller, will be rewritten, Variety magazine reports.
Yes Man will be directed by Peyton Reed (The Break Up, Down With Love) and will begin production in October.
David Heyman and Richard Zanuck will produce the film, which is set to release in 2009. 
The Mask actor will start shooting the film early next year with his other projects that include Disney's Robert Zemeckis-directed A Christmas Carol.
Text: ANI | Photographs: Getty Images