Salman Khan: the hysteria this name evokes is phenomenal and incredible. For me, life came a full circle last night.
Flashback to 13 years back: Hum Aapke Hain Koun...! released and with one glimpse of the film, I fell head over heels in love with Salman Khan. Call it infatuation; what 12-year-old girl could call it love. Since then, Salman became a virtual idol for me. Maybe it was also because of the fact that it was actually the time when nothing could have been bigger than this Greek God, with the looks he supported, the biceps he flaunted and the number of hits he was giving.
If posters, albums with his picture on top did not suffice, December 27 used to be the D-day in my life, for it was his birthday. Right from blowing out the candles, cutting the cake, getting everyone to sing happy birthday to Salman, taking my family and friends out for a treat -- I did everything wild enough I could do for the person who would make my heartbeat stop.
I even wrote endless e-mails to him and forwarded them to all the IDs I could get from his fan websites. And after months of waiting, I did receive a reply, which I would like to believe, till today, was written by him.
What more could I have asked for than the fact that Salman was coming in 1998 to the PCA Stadium, Mohali with Karisma Kapoor to perform and I was going with my aunt and to see my idol. Being members of the stadium, they had been invited to the dinner following the concert with the stars. Imagine my thrill! I dressed up in my best dress, trying to look beautiful. But alas, the show started late, and my aunt and uncle had to go back early, and I lost out on meeting the hunk.
I was heartbroken. I kept sobbing the whole night, only to be woken up by my mother at 7 am, saying that uncle had called up to say that Salman's flight was scheduled to take off at 10am and I could go to the hotel and meet him. A car was sent to me by the uncle with a photographer to capture the scintillating moment.
I reached Hotel Piccadily, Sector 22 and was waiting outside his room. There were a lot of others too. After 15 minutes, Salman stepped out. One look at him and I was floored! Right from his loud cough, to his bracelet, that picture of him stays embedded in my mind till today.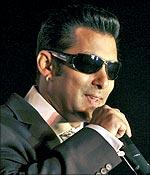 As someone shoved past me, I decided it was time to go and talk to him, take his autograph, and take a photographer. But where was the photographer? He was busy getting himself clicked with my idol! I yelled at him and asked him to come with me, and then the rest is history -- to see him smile back when I smiled at him, hearing his 'Thanks, I'm deeply touched' to my telling him  that I loved his show the previous night, his signing my autograph book, standing with me for some photographs -- and my inner excitement, thinking how we both looked so nice together. The fact that there was just a one-inch height difference between us also struck me.
I felt I had achieved everything in life with that one meeting. It took me another two-three years and some incidents to realise that these were 'stars,' better watched from a distance and we need to concentrate on real life people more than reel life. I gave up on Salman from then.
But somehow, recently I relived all those years again. Salman had been released from the Jodhpur Jail and right from 1pm to 1am at night, television channels were showing his every move. The euphoria shown was unparalleled, and when Salman came to his house balcony to acknowledge it, everyone had to fall in love with this humble screen icon. I too watched him for four-five hours. Seeing the adulation he received, the way the onlookers went into frenzy, the way he made Bandra came to a standstill, I too went back into the time when I felt the same for him. The Salman-mania came back to me.
Forget about age, Salman. You still rock the nation. And here's hoping you don't have to pay too huge a price just for the reason that you make such a big difference.