C
an't get enough of your favourite Bollywood stars? Need a quick gossip fix?
Then you've come to the right place. Read on as our very own starcrossed BPI (Bollywood Private Investigator), dishes out the dirt about our heavenly bodies.
What BPI discovered last: Shamita ki sexiness ka raaz
***
Rajni ka boss
Oye yaar, maalum hai Shah Rukh Khan is pouring out of our ears, eyes, vagera, vagera. But I can't resist sharing two juicy bits about SRK.
Firstly, he beat Rajnikanth at the moolah game. No other Indian actor or actor-cum-producer has ever pocketed (gulp) Rs 58 crore (Rs 580 million) even before a film is released!
With Om Shanti Om (which cost about Rs 25 crore) being sold to Eros for Rs 75 crores, and its music rights to T-Series for Rs 8 crore, Shah Rukh is laughing all the way to the bank.
Secondly, his next film is not going to be Sivaji director Shankar's Robot but one with Rajkumar Hirani. Right after the first Munnabhai was released, Shah Rukh called up Raju congratulating him and asking him, 'Why don't we work together?'
Raju has come up with a script that features the actor in a college drama. I hear producer Vidhu Vinod Chopra, who initially wanted SRK to play Munnabhai, can't stop whistling these days!
***
Cash bounces!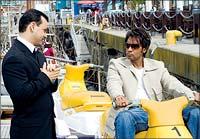 My friend Ganpat's take on Bollywood is usually bang on target. When I asked him how Partner was, he replied, 'Story gaya tel lene, lekin picture hit hain!'
And what about Cash? 'Apun ka dimaag ki batti ko is picture ne permanently damage kar di!'
Considering that everybody is going to see how bad it is, Cash is bound to recover its money. But Ganpat's views are shared by even apun ka Dhoom: 2 hero Hrithik Roshan.
The usher at the PVR theatre in Juhu told me that the Roshans had landed up to check out Zayed Khan's film (after all, Zayed is Hrithik's saala). Right through the film, Hrithik asked hazaar questions -- 'How did you land up there? Where did that diamond go? How did Riteish know? Why isn't Shamita aware?...'
Poor Zayed. He tried to put forward Anubhav Sinha's statutory warning that you must leave your brains behind and just chill and enjoy Cash. But leaving brains behind in a heist story is something that even Ganpat can't digest.
Also Read: Chak De creates Bollywood record!
***
Madhur ki Chaandi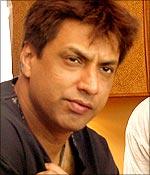 The best way to know what's happening in Bollywood is to be a makkhi and land up at the JW Marriott hotel in Mumbai. The other day when I was buzzing around, I saw Madhur Bhandarkar and UTV honcho Ronnie Screwvala having a drink.
I thought it was their usual shoptalk about Madhur's forthcoming flick Fashion. I almost fell and drowned myself in the single malt when I heard what was going on! Madhur has been offered a Rs 150 crore (Rs 1.5 billion) deal by UTV! Ronnie is giving Madhur a free hand to direct films, get others to direct, make television software... the whole works!
I was so shocked that I promptly fainted on Madhur's shoulder. When I woke up, Madhur was in his car on his cell. He was making plans to make a quickie film titled Jail about the trials and tribulations of an accused.
Aiieeyla! I have been flying frantically ever since to reach to Yerwada to break the news to Sanjubaba!