I don't have a pet name, pocket name, nickname, house name, daak naam. In that sense, I am no Gogol and have had to suffer from none of Gogol's name trauma. All I have had is my one and only name, my good name, thank you very much.
My parents very consciously avoided giving us two names that most Bengalis are saddled with. They knew the kind of conversations we would have to look forward to.
"Oh you go to St Xavier's. So does my cousin's son."
"What's his name?"
"Oh dear. Well, we call him Bablu. Ogo, are you listening? What is Pintu's son's name? Yes, yes Bablu. But what's his good name?"
Much head scratching, followed by, "I think it's with S because his father's name is with S. And the surname is Chatterjee."
Of course, we had about 11 S Chatterjees in my class alone, four in my section. And I wasn't about to run around asking if any of them answered to the name Bablu (although the chances are four out of 11 probably did).
My parents decided my sister and I didn't need to go through all that. We just had one name -- at home and outside. So, in a sense, I cannot relate to Gogol's identity crisis. I grew up in Kolkata, not some leafy suburb in the North East. In The Namesake, as his name toggles between Gogol and Nikhil and Nick, Gogol switches between his inside and outside identities. 'What did your dad just call you?' his girlfriend Maxine asks the first time she hears him called Gogol instead of Nikhil, and you know the membrane between the two worlds is punctured.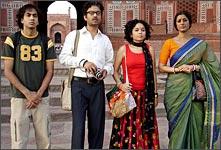 I had only one name, but still lived in two worlds. Whether in a leafy suburb of the North East or next to a bustling market in Kolkata, we all learned to live inside and outside lives. In the outside, public world, we learned to be good boys and girls, dutiful ones, the kind that could recite Wordsworth's Daffodils (flowers we had never actually seen) and sing a little Rabindrasangeet and touched the feet of jethimas and pishimas and pishi-thakurmas.
In the inside, private world, we chafed at having to put on our good boy kurta pajamas. We wanted to be a little bad, a little bit of our own individual selves rather than our mother's sons. We wanted to be writers, not engineers. But, in most cases, our rebellion, like Gogol's, didn't amount to much. As rebels without much of a cause, our middle-class rebellions caused few ripples.
If we were particularly daring, we grew our hair long. I stuck a poster of a leggy Tina Turner on my closet. But, in the end, Gogol winds up as a respectable architect. And most of us landed some such 'goodjob.' So, the aunties smiled and patted us on the head and said 'Baah, what a good boy. Shona chhele. Golden boy.'
I didn't realise the extent of this conflict between inside and outside worlds, the public and the private, until I left India. The private world is one where many of us can finally breathe, where our jokes are not lost in translation. Desis are one of the most assimilated minorities in this country. We are cardiologists, software engineers, architects (and cab drivers and Dunkin' Donuts franchise holders). But there is still a sense that we are never on sure ground in our new countries where our kids are winning the spelling bees. We have learned to drop the U in 'colour', but are still looking for that haven, where we can fry fish without upsetting the landlady, where we can finally let our guard down and can just breathe away from our suited-and-booted lives in corporate offices, in sprawling office parks and our tired-and-footsore lives in cabs and motels on grimy side streets.
And it's our names, mangled and gutted in Western tongues, that are our lonely mementos of who we used to be. Every time the store clerk pauses when our name pops up on the screen, we are reminded that we are strangers. In desperation, Nikhil becomes Nick, but that act of lonely camouflage is at best temporary.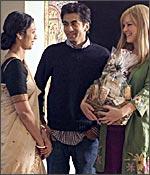 The Irish band U2 sang about a place where the streets have no name. We live in a country where it feels like no one really knows our name, certainly not our 'pet names.' And, as Gogol muses, 'Without people in the world to call him Gogol, no matter how long he himself lives, Gogol Ganguli will, once and for all, vanish from the lips of loved ones, and so cease to exist.'
I spent Thanksgiving with old family friends from India now living in Boston. A small gathering, my aunt informed the neighbours -- just 15-20 people! There wasn't a turkey in sight and everyone was relieved not to have to go through the motions of dry American traditions (and what's with that weird cranberry sauce?). Instead, there were giant trays of biryani, Caribbean croquettes, leg of lamb, chicken -- enough food for five Thanksgivings. And as the evening became an uproarious blur of Dumb Charades and Taboo, you could almost forget that outside it was chilly with rain and the last golden leaves were falling from the trees and soon, it would be a naked gray winter. Inside, it was warm, the red wine was good and soon there would be chai heating up on the stove. Only the heavy coats hidden behind the door reminded us that eventually everyone would have to leave, venturing out into the night, with Tupperware containers of leftovers and Pyrex trays wrapped in aluminum foil.
It was, in some sense, a scene out of The Namesake. In fact, our old family friends in Boston know Jhumpa Lahiri's parents in Rhode Island. But of course, they are all Bengali. Someone's mother knows someone's mother from somewhere in Kolkata. And, in America, those connections suddenly become bloodlines.
Funnily, there is a Gogol in my aunt's household in Boston as well. And, even funnier, I can never remember this Gogol's good name either. It's something with S, that much I know.
Sandip Roy hosts UpFront, a radio show about ethnic communities on KALW 91.7 FM in San Francisco. He is an editor with New America Media and a commentator for Morning Edition on National Public Radio.