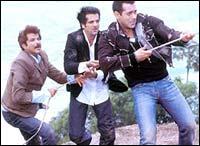 If skin flicks ruled the Box Office last year, comedy films have overtaken them this year. And so, predictably, Bollywood is rushing to do more comedies.
Says actress Sameera Reddy, "Sex and skin-films are overdone. People are bored of those themes. They are looking for something light. I am also looking into scripts that have comedy."
Sameera, who shot to fame with her dare-bare role in Musafir, is not alone. Like her, many actors and actresses feel comedy films have to be part of their CV, if they want to join the 2005 hit parade. 
Urmila Matondkar sounds even more determined: "I am dying to do a comedy," she says.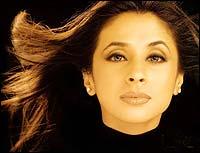 The seductress, who has gone into 'serious' cinema of late, is desperate to do a film that will make people laugh. "It has been quite a while. I am looking at (comic) scripts at the moment and will decide on which one to take," she says.
If Murder, Hawas and Tauba Tauba raked in moolah for producers in 2004, this year the trend seems to be different as No Entry, a comedy, has outdone every other genre.
Trade analysts expect No Entry to touch Rs 100 crore revenue, as it is going very strong even after 7 weeks. Three other comedies that made it big in 2005 were Bunty Aur Babli, Maine Pyaar Kyun Kiya and Kya Kool Hai Hum. Even Waqt filled theatres because of its strong comedic track.
The industry estimates that Bunty Aur Babli made a profit of Rs 50 crore, followed by Maine Pyaar Kyon Kiya's Rs 25 crore. Even middling stars like Riteish Deshmukh and Tusshar Kapoor hit the jackpot with Kya Kool Hai Hum, raking in Rs 15 crore, becoming the first hit from the Balaji Telefilms stable. Ektaa Kapoor joked: "We tried our hands with all kind of genres, and were finally successful only in comedy!" She is so thrilled with the success of KKHH, that a sequel has already been announced.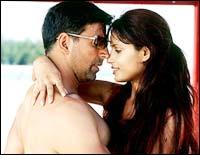 Taran Adarsh, film critic and trade analyst, says, "This year it seems audiences are in the mood for laughter. People want to forget their worries. They want to laugh, and distributors are also laughing all the way to the bank." 
No wonder, this Diwali you find comedy films leading the pack, with action heroes Akshay Kumar and John Abraham in Priyadarshan's Garam Masala. The master of senseless comedy David Dhawan is also releasing Shaadi No 1 with Sanjay Dutt, Fardeen and Zayed Khan.
"Nobody wants tension, it seems. In our film industry today, people are going overboard with comedy like they did with skin flicks last year. You can say they are following a herd mentality," says Ratan Jain, producer of Garam Masala.
Interestingly, even actors with a chocolate boy image are shifting to comedy on finding there are not many takers for their lovey-dovey image. Arshad Warsi, Fardeen Khan, Zayed Khan and Aftab Shivdasani are some such leading men. 
Aftab admits, "I have done every kind of role and have proved myself as an actor, but it is only in comedy that my films have clicked in a big way. The only other film that clicked for me was Kasoor."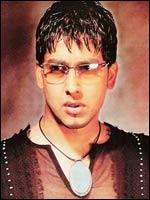 Aftab began his career as a hero in Mast, but only hit the big-time in 2004, where he played a frustrated husband in Masti. "I feel comedy films are clicking because everybody wants to laugh, and you cannot change that trend at this moment," he says.
John Abraham may have tasted success with Dhoom, but is also gunning for comedy. His aim? Versatility.
Says Jain, "I have worked with John in Elaan, and feel he has the potential to do a comic role. Moreover, my film is a situational comedy and people will love to see it. He has done a good job and people will change their perception about him as an action hero."
Concludes Taran, "Today, comedy is one of the things every hero and heroine must know to play. The line between a comedian and hero has blurred. One has to be a complete actor, only then are you acceptable."