Does anyone remember an actress called Tanushree Dutta?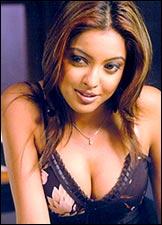 Let us refresh your memory. The actress is a beauty queen turned actress who has films like Aashique Banaya Aapne and Chocolate to her credit. The other thing she is famous for is her cleavage, and her many backless dresses.
Sadly, these things have not won her many roles, and the actress is desperate to make headlines. She recently complained to a local Mumbai paper about a stalker who has been following her for quite a while. Apparently, he also gives her a number of threatening calls.
So, why not complain to the police? 'What's the point?' she answers.
What we're wondering, dear Tanushree, is if you don't see any point complaining to the police, why complain to the media?
Now, we can understand Tanushree Dutta making these statements, but we're still pretty confused by Celina Jaitley. Recently, the actress said she was on top of the world, in love and in a serious relationship.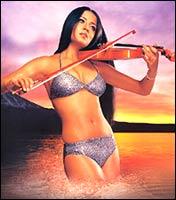 She also claimed, in the same interview, that she wants to be known for her work, not the controversies surrounding her.
You can't have it both ways, Celina.
On the one hand, you say you want to be known for your work. On the other, you claim you are in love but don't reveal the name of the person, thereby fuelling gossip. What do we do? Should we write about how unfairly you missed an Oscar nomination after your work in Jaanasheen?
We've always wondered how you landed in the sea with a violin, half-naked, despite the fact that you played a partially blind girl in the film!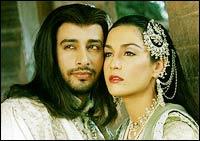 Oh, we must salute actor-turned-director-turned-producer Akbar Khan for finally releasing his film, Taj Mahal.
Note: We use the word 'finally' because his film has been 'releasing' for the last one year.
It seems there were no takers and Khan is taking the brunt of somehow releasing this epic. Historical films in India generally don't do well, with the last one to fall in the ditch being Mangal Pandey.
However, Akbar Khan is an optimist. He promises this is the next Mughal-e-Azam of the Indian film industry.
Point well taken. However, instead of the legendary Madhubala wooing Prince Salim (Emperor Jahangir) with her dancing, Khan's film has actress Kim Sharma (of Mohabbatein fame) wooing young Prince Khurram (Emperor Shah Jahan). Prince Khurram doesn't fall for Kim, according to the legend. We must say we can't blame him.
We are all big fans of Hrithik Roshan, as a star. He can act, dance, fight and do everything a Hindi film actor is supposed to do.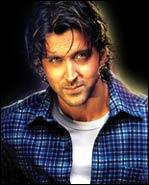 But what did this actor do in 2005? Nothing.
What did he do in 2004? Hardly anything.
Well, he did Lakshya, but a film like that is best forgotten as soon as possible. We only hope he doesn't go the Aamir Khan way. Aamir's Mangal Pandey was released after four years and he had no takers.
We did put this question to Hrithik's father Rakesh Roshan earlier, and he jokingly said, "Hrithik is following my footsteps. He tells me he wants to do one film at a time, like I am doing."
We only hope Hrithik is remembered like his father senior Roshan and does not fade away like that earlier chocolate hero, Kumar Gaurav, who disappeared after his debut hit Love Story.