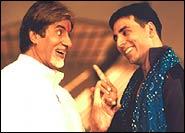 The original intention was to watch Kaal. Despite a surplus of prints, the movie was running to a full house at a late Sunday night show. My friend and I had two choices -- Waqt or XXX 2. Since neither of us was in the mood to shed a tear over melodramatic father-son bonding, we opted for the X's.
The Ice Cube starrer lived up to its expectations. It was fabulously hopeless. But every cloud has a silver lining. Sometimes, watching a crappy movie can provide fodder for column-provoking discussions. And XXX 2 graciously obliged.
During the course of discussing how Mithunish (slang the for Mithun Chakraborty brand of no-brainers) this sequel was, a pertinent question was raised.
| | |
| --- | --- |
| | More on rediff.com ! |
| | |
"Frankly, 2005 has been a dull year. Most films were sad or boring. Are there any interesting films coming up later this year?" 

Five months have gone by. Five unexciting months, during which an odd mix of indescribably awful, genuinely awful, just-about-awful and not-so-awful movies made it to the celluloid screen. A few films proved pleasant surprises with their straightforward charm and sound content. The trend, however, is pretty much the same.

S for sex

Let's begin with the Big S. What was initially sporadic as a genre is a rampant epidemic now. The entire drop-your-clothes and kiss-like-there-is-no-tomorrow that was for everyone to see in films like Jism, Khwahish, Murder, and Julie grew or rather stooped to worse levels this year.

The funny thing is those who endorse this brand of filmmaking defend their product by asking what is wrong in depicting sex on the screen? Nothing, I would think, except that I don't understand the hypocrisy of it all. If your movie is a story and not a sex scene, why are you selling it on the basis of its skin? Is sex an invincible ingredient for filmmakers?

Apparently, yes.

Even choreographer-turned-director Farah Khan, in a recent episode of Koffee With Karan featuring Malaika and Amrita Arora, admits to its importance. Khan believes love songs in Hindi films are substitutes for lovemaking scenes.

But the new trend follows the motto of sex as an excuse for making a film. So you have the hero-heroine exchanging bedroom secrets tackily in Rog, Sheesha, Fun… Can Be Dangerous Sometimes and Dreams. Evidently, the flesh festival doesn't impress even the perverted lot anymore as none of these films clicked.

Neither here. Nor there. The nameless genre.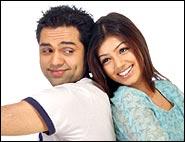 Our next stop is the refreshingly original brotherhood of films. Everyone loves to label this as 'arty,' 'parallel,' 'crossover,' 'multiplex films' or 'meaningful' cinema. At the end of the reel, they are just good old films speaking in a tone that is a tad unconventional and more realistic than Hindi films generally are.
What makes this genre earn its share of brownie points is that they almost always make for decent viewing. Even if they aren't out of the world, they at least avoid predictable cliches. So far, we got a really interesting dose of this type of cinema.   
Socha Na Tha, Chai Pani Etc and Hazaaron Khwahishen Aisi evoked wows from the tiny audiences that showed up. But then, critically acclaimed films seldom encourage box office prospects. Page 3, however, was a welcome exception. 
The maai baaps, the biggies


Now let's look at the baaps, the big budget blockbusters that are unleashed with a bang and vanish with a poof. Except for the few that hit the bullseye.
Nothing is more deceiving than a gorgeous promo. Subhash Ghai's Kisna looked like India's answer to The Last Samurai. But viewers didn't take a fancy to Vivek Oberoi's gruff act and Kisna, aptly like the Tom Cruise film with the great promos, collapsed at the box office. The stunning trio of Aishwarya Rai, Sanjay Dutt and Zayed Khan couldn't save the ambiguous Shabd despite giving it their best shot. Bewafaa failed to save face even though it bragged of a heavy-duty star cast.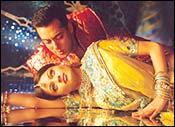 There were, however, some films that justified their budgets. Sanjay Leela Bhansali's monolithic mammoth, Black, struck a chord with critics and viewers alike. Through a poignant tale matched with impeccable performances from Rani Mukerji and Amitabh Bachchan, the script manipulated tear glands and was obvious and theatrical in creating melodrama. Part Hindi, part English, the songless Black, for (or despite) all its uniqueness, was handsomely rewarded at the box office.
Smart publicity, a catchy soundtrack and Salman Khan made sure that Sneha Ullal's debut, Lucky, lived up to its title. This ho-hum flick was followed by another biggie: Vipul Shah's Aankhen was a laudable directorial debut. Waqt didn't receive such favourable reviews, but Shah couldn't care less. The Big B-Akshay Kumar father-son camaraderie found a huge chunk of admirers. Karan Johar and Shah Rukh Khan's Kaal speaks the same story. Everyone seems to hate the film but as long as the money keeps coming in, no one's complaining.
Watch out for the next part of this feature, when Sukanya looks into her crystal ball and makes her movie predictions for the year ahead.