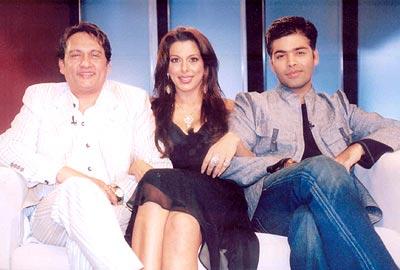 The tables have turned.
While Karan Johar and Shekhar Suman usually grill pretty actresses on their successful television shows, now Pooja Bedi has reversed the pecking order and put the two talk-show hosts in her hot seat.
So Karan reveals his favourite film director, the fact that he's okay with re-editing his show if his guests and celebrity friends object to even one hastily uttered-line and how a fan once suggested that he start a children's show, Toffee With Karan!
Also, the director says he would 'like to murder Mallika Sherawat!'
Meanwhile, Shekhar Suman crowns Karan the king of chat-shows.
Watch out for this candid chat only on Just Pooja, Saturday, June 18, on Zoom.