Goa will be the next Cannes," declared Jaipal Reddy, Union Minister for Culture and Urban Development, but that is still impossible to fathom. The 36th International Film Festival of India (straddled with the unfortunate acronym IFFI) promised to be the entertainment event of the year, a celebration of Indian (and world) cinema, and a star-studded beach affair. It ended up being, well, none of the above.
On November 23, a day before IFFI 2005 kicked off, Goa looked relatively unprepared to host a festival of such magnitude. The festival was to be held in a cultural complex, the Kala Academy, with a 900-seat theatre, and a four-screen INOX multiplex a couple of minutes away. In terms of infrastructure, Goa is woefully lacking. This is the one basic factor where those who want to make Delhi the venue have a distinct advantage.
| | |
| --- | --- |
| | IFFI 2005 on rediff.com ! |
| | |
Then, there's the question of access. Native Goans were almost universally upset at the situation, which decreed that only those with passes around their necks (a plastic card denoting Delegate, Guest, Organiser, or Press) would be allowed in. Last year, a Rs 200 ticket allowed cinema enthusiasts to queue up for movies throughout the 10-day event. This time, even that common privilege was revoked. Which meant a crowd of scribes, PR people, assorted film students, and minor celebrities. The common fan -- the film fanatic who'd stand in the Panjim sun for hours to watch a Lina Wertmuller film -- was left out of all the action.

Despite that, it's a question of fitting roughly 5000 people into less than 2000 seats. Not done.

Dev Anand and Chiranjeevi inaugurated the festivities, and all was fine till the guests lit the lamp and gave their pro-Goa speeches. Then came the thumkas as Bollywood jumped ludicrously onto stage. A couple of badly prepared (but well-meaning) audiovisuals showcased archival footage, but film aficionados appreciating the shots from Ritwik Ghatak's movies in the black-and-white reel must have gotten the fright of their lives when this was followed by Urmila suddenly writhing on stage. A set of inconsequential and forgettable performances followed, the parade halting awhile only to advertise Pooja Bhatt's Holiday. So, the only way to impress an international jury is with promos showcasing a rip-off of Dirty Dancing. Niice.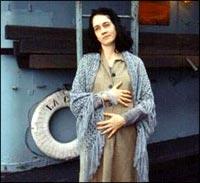 The festival kicked off with the Brazilian film,Olga. A film with a mindblowing performance by actress Camila Mogado (left, from the film), but not exactly a festival-opener. Directed by soap opera veteran Jayme Montjardim and based on real-life Brazilian revolutionary Olga Benario, it wasn't, frankly, that great after all.
Because the director and his leading lady were around, they garnered a lot of flashbulbs and extra screenings, but it must be remembered that the commercial success of the film in Brazil was matched by utter contempt by Brazilian critics, who dismissed it as shallow and overambitious in scope. When I asked the film's producer, Helder Dacosta, about this, he smiled sheepishly and said, "Well, Brazilian critics like to criticise too much."
Still, Camila did well enough in the film to attract the attention of National Award-winning Malayalam director Jayaraj, who offered her a role in his film. The director asked her the question at a press conference, optimistically telling her later that he could wrap up shooting, if she agreed, in just five days. Camila was apparently interested in the script, and then said she had to consult with her agent (read: money, lots of). The director, over a beer at a party the next night, looked visibly disheartened at this information, and alerted me to the fact that regional directors were not enjoying any of the great amenities offered to their Bollywood brethren. Given only four days of accommodation, it was hard for Jayaraj to stay for the entire festival.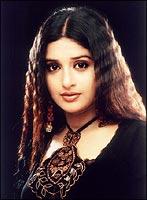 The discrepancies were shocking. The Hindi speaking part of the showbiz world was pampered and cajoled throughout, while regional cinema was treated with an indifferent shrug. Two-time National Award-winner Meera Jasmine (right) flew Economy Class, while Bipasha Basu and even compere Rakshanda Khan were shuttled back and forth multiple times, 'obviously' in Business Class. Independent filmmakers and regional directors relentlessly approached the Entertainment Society of Goa (ESG) and (event organisers) Wizcraft offices to get their posters some visibility, but everything was ridiculously dwarfed by Bollywood.
And all this while the Mumbai-based film industry chose to give IFFI a pretty cold shoulder. Huge banners and hoardings advertised films like Deewane Huye Paagal (below), but none of the actors from the film turned up for the 'world premiere', except for starlet Rimii Sen. Films like Apaharan and Dubai Return, also premiered at the festival, enjoyed high visibility, but bad press, as the stars trooped in late, and were justifiably booed by the crowds. The 'biggest' Bollywood names at the festival were Bips and Sanjay Dutt, who walked in for the closing ceremony. The A-list crowd, essentially, ignored the festival.
Which might not have been such a bad thing. Filmmakers became regulars at the IFFI parties, enjoying themselves tremendously, with directors Ketan Mehta, Sudhir Mishra and Pankaj Parashar settling into an inseperable trio. Madhur Bhandarkar was very accessible, as was Malayalam director Kamal. Nagesh Kukunoor pottered around blissfully, always with chatting time on his hands. Plus, fine films like Vishal Bhardwaj's Blue Umbrella lifted the spirits considerably.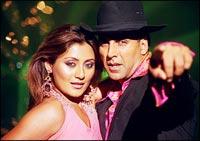 And then there were the legends. Shashi Kapoor paid tribute to Ismail Merchant, Rajesh Khanna did the same for Hrishikesh Mukherjee. Dev Anand, the sprightliest 83-year old in the world, was the life of any party he went to, and even joined the hi-jinx on the dance floor.
Lunch, during the IFFI, used to happen on board the Adlabs Adda, a yacht sponsored by Manmohan Shetty, owner of Adlabs. The 3-deck floating restaurant served as a fitting backdrop for languorous interviews over glasses of wine, and some of Goa's famed seafood. The Adda became one of the talking points of the festival, and a great port for Riviera-style networking, even as the Film Bazaar looked laughable.
Around a dozen stalls over a tiny garden (a few feet from the yacht most Bazaar-guests were longing to reach) comprised the entire Bazaar, with Bobby Bedi, Yash Chopra and Amit Khanna (head of the Producer's Guild, and Reliance Entertainment) trumpeting its virtues with little 'size doesn't matter' quotes and lines about how it would get much bigger next time. All this while French film agents scoured the grounds for someone in India to distribute a film made in India by an Iranian filmmaker called (you guessed it) Mohsen Makhmalbaf. No takers, so far.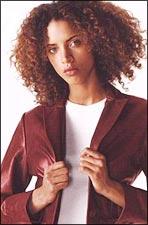 It didn't seem like the international filmmaking community was flocking to Goa either. The French brought along Asterix & Obelix: Mission Cleopatra, a box office blockbuster for its India premiere, but this was a film made in 2002! Director Alain Chabat was scheduled to attend, but 'could not make it.' Other sensational names from the cast like Gerard Depardieu and Monica Bellucci (who played Cleopatra) didn't turn up either. So, IFFI merely merited Noemie Lenoir, an attractive French model (right) who had a total screentime of maybe 2.5 minutes in the film.
With the celebrity circus cut (even involuntarily) down to size, IFFI should have focused rightfully on the films, which is what a festival is supposed to be about. Instead, they were scheduled completely helter-skelter, with days when even two premieres took place at the same time. The films in the competitive section were pitted against each other, making it impossible to watch them all, and it was difficult to fathom the logic behind repeat screenings. Popular films were screened free, and with great success, on beaches, but could hardly be called 'beach screenings' with cordoned off grounds far from the water.
Finally, the winners were announced, and Iran pipped Brazil, the favourites, to the post. And again, the show was mournfully lost in a Bollywood burst of smoke and mirrors.
In the end, IFFI turned out to be pure timepass. A bunch of people contentedly sitting around the INOX courtyard, guzzling glasses of chardonnay and pints of Kingfisher, watching films when they had the time. A decent, unhurried time, sure, and while the inherent mood in Goa is infectively festive, eventually, the festival wasn't really about films.
Food for thought: Nagesh Kukunoor liked Goa as a venue, just that it needed more work. I asked the director, upset at not being able to watch enough films, whether he would have probably managed to see more and do more if only this gala festival was not held in Goa -- beachy, idyllic, picturesque, Goa. He thought for a while, and said, "Probably."