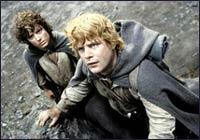 "What are we holding on to, Sam?
That there's some good in this world, Mr Frodo. And it's worth fighting for."
The unpretentious idealism and undying faith in Samwise Gamgee's uplifting words cannot be missed in The Lord Of The Rings - The Two Towers, as he tries to encourage his wavering friend Frodo Baggins.
Who knows this better than us? After all, we've forever been fed a staple diet of Hindi films where 'being correct' or 'morally, legally and traditionally acceptable' reigns supreme.
Idealism is good, both in reel and reality, but nevertheless hard to achieve. But then comes in Ms Conscience, who assists in surviving all the challenges life throws at it.
Filmmakers love to wear their best pair of rose-tinted glasses, shove all the reality aside and blindly believe that the hero will succeed against all odds, good will triumph over evil, defeat is solely meant for the villain. That is how it should be, of course. So what if that is not always the case. The very concept of hero is a sign of idealism.
So we have a Dharmendra dreaming of a 'whole new world' for the working class in Naya Zamana.
| | |
| --- | --- |
| | More on rediff.com ! |
| | |
We have a Rajesh Khanna miraculously coming to the rescue of a topsy-turvy household in Bawarchi.

We have an Aamir Khan forming an unlikely army of eleven amateur cricketers to defeat the reigning British in a game of cricket in Lagaan.

There are faltering heroes as well. But once they find their Lakshya in life, a la Hrithik Roshan, they will win the war, make the country proud and get the girl of their dreams in a jiffy.

And the idealism is not just restricted to the hero; sometimes the infection catches on to the entire family. Witness Sooraj Barjatya's Hum Aapke Hain Koun! Everyone is polite, respectful towards the elders and ever ready to sacrifice their happiness for the other.

Idealism comes at its own price. In Hrishikesh Mukherjee's Satyakam, Dharmendra dies with the conviction that truth prevails. He doesn't live to see his belief turn into reality, but it does.

Alternately, in the underrated Main Azaad Hoon, when corruption rises to an overbearing level, the need for a hero is almost desperate in nature. So a journalist (Shabana Azmi) and a political party design a man (Bachchan) who will lead the masses to a righteous path. To prove the point, this designed Pinocchio turns into a real boy. He gives up his life to assert the power of these borrowed but significant ideals.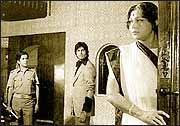 A pragmatist is an idealist's greatest adversary. In Yash Chopra's Deewar, Shashi Kapoor's 'Mere paas ma hai' stance over Amitabh Bachchan's blatantly materialistic 'Mere paas bangla, gaadi, bank balance hai' has led to a series of conflicts over the years.
With the majority of Hindi films brimming with good guys and great girls, the scenario can get pretty stale and predictable after a point.
The hero can do no wrong. Even if he is in jail for killing ten men, his actions will be justified irrespective of whether you buy them or not.
The heroine has to be a Sati-Savitri. God forbid, if she's playing a prostitute, then she has to have a golden heart. Most probably she might die saving our hero's life.
In contrast, the genre of noir dramas is noticeably limited. Occasionally there will be a character that doesn't apologize for his/her socially unacceptable behavior.
Among the current generation of filmmakers, Ashutosh Gowarikar and Aditya Chopra have taken their roles of tutor rather seriously. If the former's Swades promotes the basic idea of 'united we stand, divided we fall', Aditya's scripted Veer-Zaara is all for Indo-Pak reunion, at least as far as its denizens is concerned.
Ideally, a perfect film would be one that offers entertainment and sends out a message as well. As a bonus, such films have a history of clicking at the box office too.
At the end of the day, everyone loves to watch an idealist's dream come true. And filmmaking is their paradise.