Was it really Kareena Kapoor and Shahid Kapoor? Or was it a computer-morphed video?
Does it really matter?
How desperate is the media? If having the Page 3 culture wasn't bad enough, the reader has to put up with sensationalism in the name of news on every tabloid, national news in print, television and the Internet.
Okay, granted not every reader buys the whole Cinema Paradiso theory, some of them want simply frivolous information on their favourite stars: choice of food, films, clothes, colours, the works.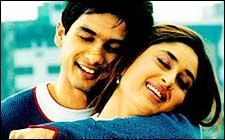 But do you really want to know how they kiss? How much tongue? How much saliva? Borrowing from Dustin Hoffman (Midnight Cowboy), excuse my vulgarity. But seriously, at the end of 2004, no one gives a damn. People have enough emotional baggage of their own to care about these so-called demigods.
A lot of moral, legal, personal opinions have cropped in the midst of this controversy.
Here is a penny for my thoughts.
First things first, why so much hue and cry over kissing in public? Don't you see a dating or married couple doing 'it' all the time? It's a part and parcel of any 'man-woman' relationship. And, if indeed it was the aforementioned Bollywood couple, at an alleged suburban Mumbai pub, then I would like to point out one thing. What purpose does a pub really serve? Alcohol, comes the answer. So if you can have pubs for public drinking, which is technically not in the liver's best interests, how does kissing there in the dimly lit setting corrupt the gullible public?
| | |
| --- | --- |
| | More on rediff.com! |
| | |
For years now, the gossip section of magazines would speculate on how a certain star snuggled up closely with their special someone in some corner of a fancy restaurant. But taking candid shots was unheard of. Until… the individual responsible for recording the controversial video on his camera phone -- hit upon this brain wave. Obviously, this person suffers from some kind of hyper voyeuristic tendencies. What is saddening is that a reputed publication agrees to fan his fallen ideals. A prophetic feeling insists that these perverted mischief mongers will mark the end of the camera phones era.
The media is always the first to point out the double standards of the film industry. But its misbehaviour is no less disgusting. If an actor denies a relationship, he or she is being diplomatic and boring. If an actor admits to a relationship, he or she ends up sacrificing their right to privacy.
In India, the celebrity-press equation has never been on backslapping terms but things were more or less cordial. Hence, the posting of such intimate pictures is, as the Supreme Court puts it 'in bad taste.' The Western paparazzi was never strong on ethics. It would be unfortunate if the Indian media lost its way as well.
A radio show debated on whether the alleged kissing was wrong, as it was in a public place and especially because celebrities have a responsibility towards society. The episode got so much attention only because of the stars involved. Would it be of any effect if it were a picture of any unfamiliar couple? It's odd but no one has a problem with actors kissing in public in films. No eyebrows were raised when Aamir Khan smooched Juhi Chawla in front of a cheering crowd for a scene in Ishq. The audience in the theatre applauded as well.
Why is the media so obsessed with stars? Why should they be appreciated for anything other than the talent that put them on the pedestal in the first place? By insinuating that Shah Rukh Khan's smoking habit will rub off on his fans only goes to show how incapable fans are of thinking for themselves. Doing right or wrong is an individual's choice for which s/he inevitably has to face the consequences. Ironically, Khan says something to the same effect in his new release, Swades, about how we have a tendency to play the blame game when the truth is we have ourselves to be blamed.
And what about the media's responsibility? Aren't they supposed to state facts without being judgmental about it? Invasion of privacy is not an act of democracy. It's a cheap gimmick, a cry for attention; journalism stooping to any level to sell extra copies.
As a member of the media, the current scenario makes me shake my head in disdain. It doesn't speak much for the legitimacy and standard of news.