E
yes meet. Hearts beat. A romantic piano serenades a young looking duo. And love is in the air. That's one of Bollywood's classic clichés.
Behind the scenes, however, it takes a lot more for two people to get interested in each other.
What does it take for relationships to bloom on the sets? Maybe it's their single and ready to mingle status. Maybe doing intense love scenes takes its toll on them. Maybe it's all the singing and dancing around the trees. Whatever the external factors are, the chemistry is always inherent, seldom borrowed from their celluloid alter egos.
Unfortunately not always does that love, comfort and passion the two feel for each other translate on screen. So while you have pairs like Dharmendra-Hema Malini, Amitabh Bachchan-Jaya Bhadhuri (then) and Rishi Kapoor-Neetu Singh sizzling onscreen, there are some hot pairs that fizzled onscreen.
Is it the lack of chemistry? Is it bad timing? Or are the movies just hopeless?
Let's take a look and find out why some of the hottest couples fail to make hit screen pairs.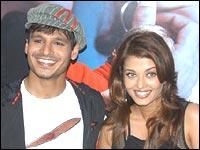 Aishwarya Rai-Vivek Oberoi
If she is a certified beauty, he is not too bad himself. Together, on paper, they are a Mills 'n' Boonesque couple. Together, on screen, they are as romantic as milk and cornflakes.
Their first film together, Kyun! Ho Gaya Na… was promoted with tremendous hype. The duo attended several public events to sell their reel love story to the audience. The promos looked yummy as well. It looked as if Kyun! Ho Gaya Na… would be a combo feather in Ash and Vivek's hat. Alas, the film bombed. Their non-existent chemistry was held responsible.
Okay, so the truth is that they don't look smoldering together. What about the plot though? It was so contrived. It did not even offer them a chance to sizzle together.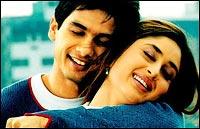 Shahid Kapoor-Kareena Kapoor
You don't need to be a psychologist to see the glow on Shahid and Kareena's faces. They look very much in love. Somehow, this love didn't light the box-office.
Fida
, which co-starred them with Fardeen Khan, released a week after
Kyun! Ho Gaya Na…
and met with a similar fate. Some felt Kareena looked older than Shahid even though they are the same age. But then
Fida
wasn't a usual love story, like Shahid's character, at some point, scowls, 'It's a hate story.'
Without giving spoilers, lets just say the premise of the story didn't give the young pair a chance to lighthearted romance. Here's hope Kareena, who makes quite a pair with Hrithik Roshan, shines the second time with beau Shahid in their next film, Milenge Milenge.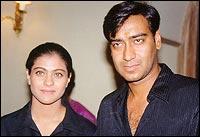 Ajay Devgan-Kajol

When it comes to hot pairs and hotter chemistry, Kajol and Shah Rukh Khan are the first names that come to mind. And why not? Every film the two featured in became a huge hit: Baazigar, Karan Arjun, Dilwale Dulhania Le Jayenge, Kuch Kuch Hota Hai and Kabhi Khushi Kabhie Gham.
But Kajol and hubby Ajay Devgan weren't exactly a sight to behold in Gundaraj, Hulchul, Dil Kya Kare and Raju Chacha.
Constant comparisons to the super pairing of Kajol and SRK always made the genuinely in love look pale. But they still have two hits as hero and heroine -- Ishq and Pyaar To Hona Hi Tha. We will not rub in the fact that Ishq was a madcap comedy and Pyaar To Hona Hi Tha was a Kajol entertainer.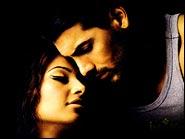 John Abraham-Bipasha Basu
They had a promising start. As individuals, they are hot. Together, they exploded the screen with their sensual chemistry in Jism. This desi take of Double Indemnity involved a lot of intimacy. And to John and Bipasha's credit, they did a good job at getting it right.
Jism
hit jackpot. But their subsequent films together --
Aetbaar
and
Madhoshi --
flopped. The electrifying chemistry one saw in
Jism
was sorely missing in the other two. The intimacy looked made-up. The spontaneity of their togetherness was gone. Perhaps they should be more careful about the films they sign together, and avoid those that offer poorly sketched roles.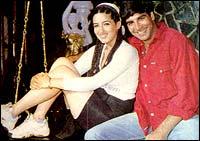 Akshay Kumar-Twinkle Khanna


Akshay has enjoyed a successful pairing with Ayesha Jhulka, Raveena Tandon, Shilpa Shetty and now Priyanka Chopra. But with wife, Twinkle Khanna, Akshay shares two-box office turkeys,
Zulmi
and
International Khiladi
.
It's not like they looked bad together. Akshay is the conventional good looker and Twinkle has oodles of charm. But onscreen, the now happily married couple never got a chance to do something spectacular. They didn't have a mast mast song or a Dhadkan kind of romance to prove what they could do together.