She gets paid in millions and compliments. And she loves them both.
Here's a quick look at the most popular and unimaginative compliments paid to our Hindi film actress:
"Wow, you are so pretty." [The most irritatingly common one]
"You and XYZ make a lovely pair on screen." [Beaten to death]
"I love your dressing sense." [Second runner up]
"You are an amazing actress." [Last but not the least]
But how many actresses can we think of saying, "You are funny as hell"?
| | |
| --- | --- |
| | More on rediff.com! |
| | |
In our films, actresses have fixed emotions to convey no matter how big or small the length is. Women in films are usually an 'object' of someone's affection. So like true blue props, they add glamour to the grim settings by looking gorgeous and breaking into impulsive dance urges. To them, getting into the skin of the character usually boils down to displaying oodles of the same.

Playing a woman of substance translates into a wronged individual turning into a madcap avenger unleashing her fury on the male-dominated system. Or she takes the glycerin path by accepting regressive characters in social dramas -- an extension of small screen saas-bahu soap operas.

Again, where is 'funny'? Rack your brains to name an actress who displayed a fabulous sense of humour or possessed a keen comic timing, and a shockingly low percentage comes to mind.

Low or high, this set of actresses should be applauded for doing more than just looking good and crying buckets.

One of the earliest to dabble in comedy were the divas of the black and white era like Geeta Bali (Albela) and Madhubala (Chalti Ka Naam Gaadi, Half Ticket). Geeta Bali's cute brand of laughter or Madhubala providing the perfect foil to Kishore Kumar's rib-tickling comedy is guaranteed to bring a smile on the viewer's face even today.

Even the impish Mumtaz didn't shy away from playing the clown's amused girl.

The 1970s saw the likes of Rekha, Hema Malini (Seeta Aur Geeta, Satte Pe Satta) and Neetu Singh (Rafoo Chakkar, Amar Akbar Anthony) justifying the phrase 'girls just wanna have fun'. While it was somewhat hard for Hema Malini to get out of the dream girl mould and Neetu Singh appeared content playing the happy-go-lucky girlfriend, Rekha emerged winner with her spontaneous comic timing in films like Khubsoorat, Jhoothi, Bahurani and Biwi Ho To Aisi.

In the last 10-15 years, the trend appears to be coming of age with more actresses coming forward to successfully or otherwise essay nutty roles.

Here's my pick of the super six comic heroines in recent times: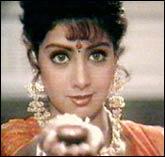 Sridevi
Her mobile face expressions could give Jim Carrey sleepless nights. And yet, she is one of a kind.
Sridevi's biggest plus point is her ability to be completely uninhibited in front of the camera. Remember her in the beer scene in the bar or getting into scraps with each and sundry in Chaalbaaz?
Her take off on Bollywood's classic icons in the song medley of Lamhe was equally entertaining. Her antics as Ms Hawa hawai in Mr India cannot be ignored either.
Even in super bloopers like Roop Ki Rani Choron Ka Raja and Gurudev, Sri evoked laughs with her (deliberated) clumsy body language, dancing eyes and wobbly, thick-accented voice. Not to forget her desperately-seeking-money act in Judaai. It is hard to erase the memory of the actress crazily jumping about her bed counting money like the greedy wazirs you encountered in Ali Baba And The Forty Thieves.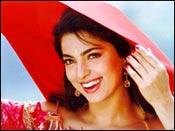 Juhi Chawla
A natural, and unfortunately, also an underestimated star of her time. There is more to Juhi Chawla than 'cute' and 'chirpy'. Her inherent quality to bring a smile on a person's face adds to her reel performance as well.
If Qayamat Se Qayamat Tak showed sparks of bubbling comic talent, films like Bol Radha Bol, Hum Hain Rahi Pyaar Ke, Loafer, Yes Boss, Duplicate, Mr And Mrs Khiladi and Ishq brought her humorous persona in full foray. Most people remember David Dhawan's Andaz for its double meaning songs and vulgar dance movements.
But there is a scene where Juhi sings Aye duniya ke rakhwale in her worst nasal tone. The result is priceless.
Luckily, her prankster avatar in Hum Hain Rahi Pyaar Ke, brought her well-deserved recognition. The Scorpio beat her closest rival Meenakshi Sheshadri (nominated for Damini) to win the best actress Filmfare trophy in 1993.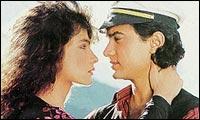 Pooja Bhatt
Her career as an actress is relatively short and comparatively sweet. Even though Pooja preferred to branch out as a filmmaker, it would be unfair to overlook her comic performances in Dil Hai Ki Manta Nahin and Prem Deewane.
The spoilt brat of DHKMN is at her funniest best in the scene where she lisps like a child 'Mar gaya, mar gaya' followed by a desperate 'Raghu utho.'
She played the silly twit with a dumb aura, which is unknown territory for the articulate Piscean, with equal aplomb in Sachin's screwball comedy Prem Deewane.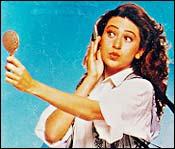 Karisma Kapoor
Comedy had to rub off on the actress who starred opposite the King of comedy, Govinda, in a series of hit laugh raisers like Raja Babu, Coolie No 1, Saajan Chale Sasural, Hero No 1 and Haseena Maan Jayegi.
But even in her debut, Prem Qaidi, Karisma displayed a knack for comedy. Her nitwit disposition while cooing Mehendi re was nothing but funny. Ten more brownie points to Karisma for playing the awkward looking, ridiculously dressed, eyelash-fluttering Raveena with unabashed inanity in Andaz Apna Apna.
Younger sibling, Kareena is yet to get a hang of comedy. Though Hulchul was cool, her idea of humour in films like Mujhse Dosti Karoge and Khushi was ear shattering.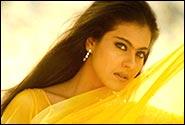 Kajol
Think Kajol, think emotions. Either she is the firebrand or the emotional sensitive types. But there are a few examples where she is pure, wicked fun.
Does Kuch Khatti Kuch Meethi, Rahul Rawail's version of The Parent Trap ring a bell? She played the bullying twin with the gothic make-up. But since the film flopped, nobody cares.
Close buddy cum director Karan Johar's Kabhi Khushi Kabhie Gham was, however, anything but a failure. Hence, everybody remembers Kajol's exuberant turn as the patriotism obsessed, Punjabi spewing Chandni Chowk di kudi immigrated to London.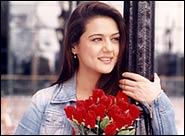 Preity Zinta
What can you say about an actress who giggles non-stop in a tone that is anything but prim and propah? She is carefree. She is animated. She talks non-stop. She laughs all the time. She has a chilled out sense of humour. And a tomboyish streak too.
Preity Zinta is all that and more. All this greatly contributes to her style of acting. So whether she is quizzing Shah Rukh Khan on virginity in Dil Se... or grimacing while brushing teeth in Kal Ho Naa Ho, Preity knows how to crack up the audience.