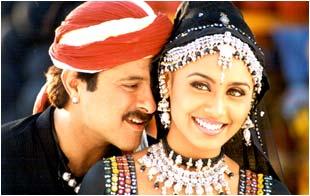 HOME | MOVIES


The story is based on a simple premise.

Frustration -- with authority, with bureaucracy, with red tape, with life as it is lived -- is part of Joe Citizen's daily life. Thus, all of us, at some point in life, find ourselves thinking: "Jeez, if only I were the Prime Minister or Chief Minister, I would change this. If only I had the power for one day."

Shankar -- who takes credit for the story -- takes that 'if only' and makes a film. A videographer for a television channel finds himself conducting a live interview with the CM. Untrammelled by the pulls and pressures that dictate the conduct of more 'seasoned' journalists, the tyro grills his celebrity guest mercilessly, exposing deceit and deception before a live audience of many million.

The frustrated CM, in a bid to get out of the trap, throws a challenge at his tormentor. "It is easy to flash a press card and ask all kinds of questions. When you sit in my seat you will find out how hard it is. You media people talk big. Do you dare sit in my seat for a day and then tell the world what it is like?"

The reporter hems and haws and, finally, says, "Yes."

This triggers a story of power and politics, of all that can be accomplished if the will is there. And of all that the political process can, and does, do to thwart that will.