All for women KBC show in Tamil
Rajitha
Jayalalitha-watchers -- and who in Tamil Nadu was not? -- set up a buzz when, in the midst of her hectic electioneering schedule, the AIADMK supremo made time to meet with Khusbhoo.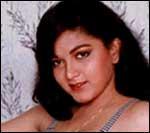 The Bombay import -- now thoroughly Tamil-ised -- had for the space of three-odd years, reigned as Tamil cinema's reigning star before abdicating the spotlight in favour of marriage (to director Sundar C), and motherhood (she in fact reported for shooting for her last Tamil release till date, Vinnukkum Mannukkum in what the British are apt to call 'an interesting condition').
It was at the time speculated that Khusbhoo would be roped in to help counter such heavyweight star campaigners for the DMK as the husband and wife team of Sharat Kumar and Raadhika.
Now the cat's out of the bag -- Khushboo is in fact going to counter the above mentioned pair -- but not on the political stage.
Instead, she will anchor Kodeeswari. A Kaun Banega Crorepati-clone, in Tamil -- with the twist that this show is women only. Woman anchor, women contestants, women in the audience -- and not a male in sight. All this on Jaya TV.
Where the fun begins is that Raadhika produces, and Sharat Kumar anchors, Kodeeswaran -- (the licensed Tamil version of Kaun Banega Crorepati) for Sun TV, the channel owned and run by Kalanidhi Maran, grandson of DMK chief Muthuvel Karunanidhi.
With Jayalalitha having won the political battle, she now seems to be in a mood to open up other fronts to take her arch enemies on. And since she is no believer in half measures, the small screen battle is likely to be viewed with as much interest as the political one was.
Jaya TV meanwhile is leaving nothing to chance to ensure that it wins this one -- thus, even as Khusbhoo prepares to woo women (who, in Tamil Nadu, in any case form the bulk of the TV-viewing tribe), Jaya TV is also readying another programme, on similar lines.
This one, only for kids. Anchored by erstwhile glam star Rambha.
By way of aside, the small screen in TN seems to be finding optimum use for big stars -- Khusbhoo and Rambha join the likes of Raadhika, Revathi and Suhasini in the list of women stars who have parlayed their big screen status into a television career.