'I'll carry it with me to Zimbabwe'
Ruchi Sharma in Bombay
Asha Bhosle is, arguably, the best and most versatile singer that the last four decades have seen in Hindi film music.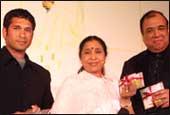 The period has also seen her evolve from a playback singer to one who constantly believes in exploring new avenues -- be it pop, remixes or reviving her old work. Asha Bhosle's latest passion is composing.
The story started years ago, when B R Ishara once playfully suggested to Asha that she ought to compose as well as sing, just to be on both sides of the fence. She had laughed off the idea then.
The dimpled songstress didn't know that that would actually be a reality later.
And the evening of Monday, May 21, at the Hotel Regent, Bombay, saw Asha Bhosle launch her first album as composer-singer, Aap Ki Asha.
Formally released by master blaster Sachin Tendulkar, the album has songs composed by Asha Bhosle with lyrics by the late Majrooh Sultanpuri. "He always called me bitiya," says Asha, "and I know that he would have done anything for me. So when I asked him if he would pen the lyrics for my compositions, he naturally agreed. This album is for him."
Sachin Tendulkar stated simply that he has been a fan of Ashaji ever since he remembers: "I always listen to Hindi songs before going in to bat. I know that this album will do well. In fact, I will carry it with me to Zimbabwe to relax and enjoy the great music."
The evening was a trip down memory lane, with songs sung by Asha from every era clipped together to a fashion show. It was attended by stalwarts like Khayyam, Jagjit and Chitra Singh, Leslie 'Lezz' Lewis, Sonu Nigam and Yash Chopra.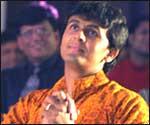 Khayyam waxed eloquent about his former contemporary: "She has a repertoire of these songs -- very playful and fun kind of music. So there is no reason why this one should not be a success. And she has so many years of singing behind her. Composing is a natural step. And her voice -- it is still excellent."
Only one song is being used for promotional purposes. The video for the song has also been shot. The music is yet to be released in the market.
ALSO READ:
'I'm not a composer!': Asha Bhosle
Asha in song! Snapshots from the launch
Hear songs of Asha Bhosle on Rediff Radio!
Photographs: Jewella Miranda