Former cricketer Ajay Jadeja seems to have made the transition from cricket to celluloid rather easily.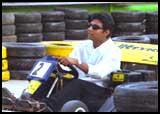 Jadeja, who has been banned for five years by the Board of Control for Cricket in India (BCCI), is set to make his first Hindi film appearance in an untitled Hindi film to be directed by first-timer Yusuf Khan.
"Offers have been coming my way for the last three years. And this project just happened at the right time -- that's why I am doing it," said Jadeja.
Inaugurating a motor sport event organised by J K Tyres in collaboration with the Le Meridien Hotel, Jadeja said he would fight the ban as long as it takes and would love to play whenever he gets the opportunity.
"Cricket is my first love and I will fight the ban as long as it takes."
Confident about facing the camera without a screen test, Jadeja will start the first shooting schedule of the film in India around the end of June, "I will shoot just for 60 days in India and then later we move to London."
Keeping the identity of the film's leading lady a secret, Jadeja admitted, "I love to run around trees; I think everyone does." He is also attending dance classes. As far as acting goes, the flamboyant cricketer has no worries: "Acting is part of everbody's life."
"I have faced the camera as a model before. This will not be any different."
Reluctant to reveal the plot of the film, Jadeja said, "The film is about two friends. I have no idea whether it's a romantic film or not."
The actor is also enjoying his innings as a husband and domesticity is not making him uncomfortable. He admits, "I enjoy being married. So far so good!"
UNI