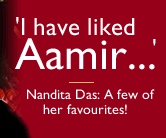 She is very categorical. Nandita Das has no favourites in the film industry.

But then, she tells

Ruchi Sharma, there are still a few people whose work she can't help but admire. Whom she can't help but want to work with.

Here are some of them:
My basic influences, when it comes to work, are gleaned from day-to-day life. A little incident here, a montage there, which make an impact when I don't even realise it...
Later, when I am in front of a camera, my emotions come from places and reasons that I don't even remember, honestly.
When one watches a film, the film decides whether the actor or actress in it is spectacular or not. People always differ in their performances from film to film. It also depends a lot on the role they have, the leeway the script gives them and so on.
But I would have loved to see Balraj Sahni and Nutan at work.
I think Balraj Sahani is the most natural actor; there's so much depth in him. Nutan is, well… Nutan is Nutan. I don't think I need to say more!
Naseeruddin Shah and Om Puri are both responsible for giving us a whole new movement in terms of cinema.
These are two actors who have, at every step, broken barriers of commercial cinema. 'Serious cinema', I feel, to some extent, gained 'commercial' value because of them. Not to mention that even in the 'commercial' films, they are actors beyond compare.
Among the more popular artistes, I have loved Aamir in one film, what Kajol did in another, and Tabu, too. Sometimes, they perform par excellence. It all depends on their roles, and how they are assayed.
As far as directors are concerned, yes, there are some people whose style leads me to believe that I would have loved to work with them. Guru Dutt, for instance. He was an amazing man, with a fantastic sense of cinema. I don't think there are any others like that.
Or Hrishikesh Mukherjee, who makes the kind of films I love watching. Those halki-phulki (light) comedies that brightened up my childhood; the kind which, it is a sorry thing, are not made any more.
Rakesh Mehra (of Aks) is new. But working with him was an incredible pleasure -- he's a man who knows his medium, and dares to think differently.
I would also love to work with Mani Ratnam and Mohan Lal.
Then there are just some people who have the kind of versatility that can only be admired. Like Shekhar Kapur, who can make a Mr India, then a Bandit Queen, and then an Elizabeth. What range!
Or Mahesh Manjrekar. Or Ramgopal Varma. Every film made by him is completely different from his previous one. It's fascinating to watch how his mind works.
I would love to work with all these directors and actors. Some of them I am already working with. It is so fascinating just to see how the creative process works in different people.