Nidhi Taparia
He has signed on Abhishek Bachchan and Aishwarya Rai for his debut film, Kuch Na Kaho.
Rohan Sippy, son of star director, Ramesh Sippy, is a confident man. With a third of his film ready and a year left for its release, he chooses to keep a low profile.
He is also a director who knows his mind. Witness his unequivocal, "The medium budget film is dead.
"That is why it is more difficult for debutante directors like me and Goldie (Behl), who want to make films but don't have the financial muscle.
"Hence we have put all our eggs in one basket our first film. We would love to experiment, but we have to live within our means."
Quiz him about the ABCs of film financing, and he says, "Unlike the West where studios can afford to make 20 films, the Hindi film industry is still run by family-owned businesses.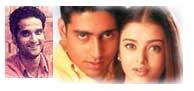 "I can't really have 20 films at one go. So I am putting everything one stake in one film.
"Eventually, we cater to a marketplace. Things are changing, but not so fast enough for us to be as professional as the West.
"Also, today, each film brings with it a lot more media scrutiny. There are more expectations. There are fewer stars. And there is a lot more money riding on one film."
But the debutant director is willing to risk making an unconventional film. "I think it is more risky to be less risky.
"If you are following a formula that you think has worked, it is more risky -- because the audience has become more discerning.
"But the stars and directors are experimenting today.
"Didn't Abhishek experiment? He did an unconventional Refugee. So did Kareena, when she could have starred in a film like Kaho Naa... Pyaar Hai.
Rohan also knows how tough it is to make a masterpiece. He says, about success: "It is important.
"In the Hindi industry, there is no formula for success. No special secret. The fact that nobody has been able to replicate the success of Sholay is proof enough.
As for his own film, Kuch Na Kaho, Rohan isn't speaking yet. He parts with the cryptic, "It is an interesting film! You will love watching it."