Kick butt!
Deepa Gahlot
Most classic love stories are about people obsessed with the beloved.
Romeo And Juliet, Laila Majnu, Shireen-Farhad, Heer-Ranjha, Sohni-Mahiwal are all about the power of love that has crossed the boundaries of rationality.
In more conservative times, lovers self-destructed rather than let their sweethearts be ruswa in the eyes of the world.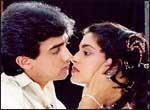 The chillingly morbid scene in Shama Parwana always flashes in the mind, in which the character played by Shammi Kapoor was boiled alive in a cauldron, but he didn't make a sound in order to protect his beloved Suraiya's reputation.
Many of the superhit love stories, right from Achhut Kanya and Rattan to Qayamat Se Qayamat Tak either one or both lovers (the word used in its no-sex-please-we-are-Indian sense) died and sent the audiences home in cathartic grief.
Yesterday's lover balefully sang a Khush rahe tu sada kind of sacrificing number when his girl married another guy and made a dignified exit.
Today's lover like Dev (Sunil Shetty) in Dhadkan swears revenge when his girlfriend (Shilpa Shetty) marries another man. "If you canít be mine, you can't be anybody else's either," he declares, before going hammer and tongs at her hapless husband (Akshay Kumar).
Half a century ago, this would have been considered bad form (not to mention sore losing). Film-makers as well as audiences would have been horrified at this caddish behaviour.
Far too often these days, there are reports in the papers about rejected and jilted men (not necessarily boyfriends) stabbing, burning, disfiguring girls with the line, "Tu meri nahin ho sakti, to kisi aur ki bhi nahin ho sakti," picked up from God-knows-which film!
Still, this kind of mad romantic fanaticism was once a male prerogative.
Whether it was the gentle Pathan (Shashi Kapoor) in Shyam Benegal's Junoon going crazy over the white memsaheb (Nafisa Ali); a thwarted-in-love Amitabh Bachchan in the underrated Parwana, plotting an elaborate murder and pinning it on to the girl's (Yogeeta Bali) boyfriend (Navin Nischol), who doesn't know what hit him.

Yeah, those were the days when girls in films could actually choose Nischol over Bachchan and the audiences wouldn't fall off their seats, laughing.
The women just bowed their heads and accepted whatever their men or their fate decided for them.
Evil-tinted romantic obsession got its sugar and glamour coating when Shah Rukh Khan stuttered K-K-K-Kiran and stalked Juhi Chawla in Darr. This time audiences (who had forgiven his murderous rage in Baazigar and condoned the tossing of Shilpa Shetty from a high-rise terrace) were actually willing to accept and sympathise with this loony, lonely, motherless boy who just wanted love from the woman he loved. Shah Rukh gave the character such an air of tragic dementia that every time he succeeded in making Juhi scream in terror, men in the cinema halls cheered.
However, he did overstep limits when he got lowdown mean and vicious in the pursuit of Madhuri Dixit in Anjaam, and deserved the violent death he got in the end.
The psychotic Sharad Kapoor in Dastak stalking Miss Universe (Sushmita Sen) never had a chance -- people were fed up of maniacs running lose.
There were too many Sleeping With The Enemy rip-offs floating around. The most menacing being Agnisakshi with Nana Patekar as the vindictive husband who wants his runaway wife back!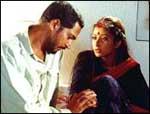 If one doesn't count the two Fatal Attraction (and to an extent Someone To Watch Over Me) copies, Jurm and Haar Jeet, it took a while for women to get equally destructively obsessed by men they fancied without turning their characters into vamps.
Helen, Shashikala and all have done their man-eating numbers. Many heroines have killed and died for love, but one still shudders at the image of Ramya in Chaahat, who wants Shah Rukh (the shoe is on the other foot for a change), at any cost. So she puts her gangster brother (Naseeruddin Shah) on the job. Only the brother happens to be crazily obsessed with the sister, too.
Madhuri Dixit in Pukar is so insanely jealous when Anil Kapoor opts for Namrata Shirodkar (imagine!) that in a moment of recklessness she almost ruins his life.
The latest in the list of female loonies happens to be Urmila Matondkar in Pyaar Tune Kya Kiya -- a lot of actresses say playing a 'mad woman' is their dream role, since it gives them a chance to display histrionic fireworks.
By that count, Urmila has had two opportunities -- in Kaun and Pyaar Tune Kya Kiya.
But her Ria is a sad, implausible crank with none of the rampaging malevolence of the woman scorned in Fatal Attraction. Glenn Close's nastiness (which Michael Douglas asked for, anyway) was terrifying. Urmila's delusional whimpering and pleading was not in the least moving.
Indian audiences still have trouble accepting women who are too aggressive. Especially if they are home-breakers and male-bashers.
An avenging angel popping up once in a while may be accepted, but not a woman who goes after a man with such single-minded determination.
To a conservative Indian viewer, a male getting the woman (job/property/glory) that he aspires to is legitimate. A woman has no business to step out of line.
Ria is not a great model, but Indian film heroines could do with a touch of aggression, a bit of black in their sainted souls.
It was Yash Chopra's Trishul that created (by Salim-Javed) that unforgettable woman (Waheeda Rehman) who wouldn't forget or forgive a betrayal and spend her life being a pathetic victim.

She avenges her humiliation from beyond the grave, by passing on her obsession for revenge to her son (Amitabh Bachchan).
Landing up in the lunatic asylum because you can't snatch a guy from his wife? That's a wimpy thing to do.
And haven't our films had a fill of insipid heroines already? About time they kicked some butt!
E-mail Deepa Gahlot