An evening with Karisma!
SABe TV, the Bombay based entertainment channel promises a few sparks in Ahemdabad, Bombay, Lucknow and Delhi on June 21 and 22, 2001.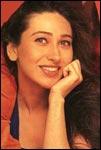 Those are the days which will telecast Karisma Kapoor giving away prizes to the lucky winners of Karisma Sabe Shaam Inaam Aapke Naam.
A grand ceremony was held in the abovementioned cities.
The contest ran from May 14 2001, to June 8, 2001. Viewers were asked to answer a few simple questions during the Prime Time slot -- between 7:30 pm and 9:00 pm. There were daily prizes, which included short trips for the family as well as white goods.
The piece de resistance? Of course, the mega prizes -- a flat, car or a foreign trip for the family. The runners-up stood to win a motorcycle, computer or diamond jewellery.
The channel added more telephone lines to make it easier for the viewers, as also the channel website, to meet the overwhelming response it got.
SABe TV's Karisma Sabe Shaam Inaam Aapke Naam is unique in terms of appeal.
This is an effort by SABe TV to bring the common man close to the star, the channel's brand ambassadress. This was a chance to meet her in person and spend an evening with her.